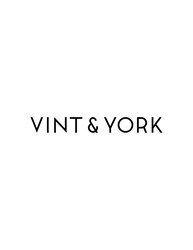 NEW YORK, NY (PRWEB) January 27, 2014
Global eyewear brand, Vint and York announces their new 2014 collection presentation during New York Fashion Week this February 12, 2014. This fashion event is one of the most exciting and highly anticipated events of the season.
Vint and York will present their new collection presentation at the Manhattan go-to spot, BARBERSHOP at 8 Rivington Street on February 12, 2014 from 7-9pm. At the special event, there will be complimentary cocktails sponsored by the New York Distilling Company. Top tier media and New York tastemakers will be attending the VIP invite-only affair.
Vint and York brightly colored; uniquely shaped frames are vintage inspired with a modern look. It is only fitting for Vint and York to have their NYFW event held at BARBERSHOP, as both share the same mission and spirit, adding unique style to their customers. It will be one special event celebration where fashion meets style under one roof.
Vint and and York are worn by celebrities and national and international media. Their eyewear retail for $109.00: which includes the premium prescription lenses and free shipping. Vint and York new sunglasses featuring Zeiss Vision Lenses retail for $129.00. To find out more or to make a purchase, visit http://www.vintandyork.com.
Vint and York offer high quality, unique eyewear at an affordable price. The company produces vintage-inspired, statement eyewear for men and women. Vint and York has captured the attention of media and global trendsetters. For more information on Vint and York and its products, visit http://www.vintandyork.com and Facebook via facebook.com/vintandyork and Twitter via twitter.com/vintandyork.
# # #
For media inquiries, please contact:
Tamara York
Tamara York Public Relations, LLC
212.967.8300