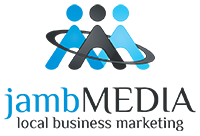 Build trust with your target customers to significantly grow your business.
Surrey, BC (PRWEB) January 27, 2014
jambMEDIA Inc. announced today it begins formal operations with the launch of its premium business marketing services. The company is operated by four founding partners whose senior leadership and proven track record bring instant credibility to marketing and business growth. The management team has over 50 years collective experience selling, consulting and marketing online.
"Business leaders today are hungry for new and innovative methods of reaching their target customers. With rapidly declining readership and listenership, traditional media no longer offers a viable solution", states Mike McLean, CEO of jambMEDIA. "We offer a proven and cost effective set of services that intimately connect a business with their customer while building long term trusted relationships designed to increase business and customer loyalty."
jambMEDIA launches with three core services which include LocalWebRadio, The School of Internet Marketing and SmartLocal Professional Services. These services can be deployed together or independently. All services are sold, implemented and supported directly by jambMEDIA.
"We have over 50 years of collective experience in our management team in online business success. Our services leverage this experience to drive value for our customers far beyond any current online tactic or offline marketing strategy," says James Martell, VP Product Development at jambMEDIA.
About jambMEDIA
jambMEDIA Inc. is a privately held company located in Surrey, BC Canada. It develops, markets and distributes its services to customers across Canada and the USA. All services are developed, owned and trademarked by the company. It operates dedicated web sites under the jambMEDIA banner to uniquely deliver LocalWebRadio, The School of Internet Marketing and smartLOCAL360 Professional Services.