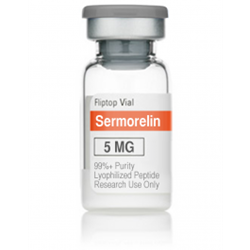 Sermorelin has been used during research to stimulate the secretion of growth hormone from the adenohypophysis (also called the anterior pituitary).
(PRWEB) February 03, 2014
Cosmetic peptides such as Argireline and GHK-Cu are being used in the anti-aging and beauty industry as the new "it" ingredients for increased product efficiency.
These dynamic ingredients help promote and protect the health of your skin are highly valued by the cosmetic industry which is actively searching for innovative compounds to incorporate into groundbreaking formulas of new skincare products.
Peptides are one essential example of such ingredients and can be purchased online through qualified sources like Peptide Sciences http://www.peptidesciences.com.
February 3, 2014: Peptide Sciences is a leading provider of highly purified peptides which are made exclusively in the US and are synthetized without additives. With a 99% purity guarantee on all products, Peptide Sciences is one of the most reputable sources of high purity research peptides.
Peptides share similarities with proteins, and just like protiens, peptides occur naturally into the body.
Furthermore, they both have the building blocks known as amino acids in common. In fact, peptides are short chains of amino acid sequences which are linked by peptide bonds. The latter is also the element which makes proteins and peptides different. Peptides such as Sermorelin make for shorter chains of amino acids as compared with proteins which have more than 50 amino acids in their structure.
Sermorelin:
Peptides promote skin rejuvenation and make for excellent allies in combating the natural process of aging by tricking the skin into providing the body an increased amount of collagen. The latter is another naturally occurring protein responsible for that firm, lean, hydrated looking skin a person's envied for during her youth. Unfortunately, as the body ages, collagen degenerates and the human organism fails to produce an amount of collagen equivalent with the amount that's damaged in the aging process. To make matters worse, elements like the UVA and UVB rays destroy collagen, promoting its decrease even further. The degeneration of collagen leads to wrinkles and sagging skin. Fortunately, peptides stimulate the synthesis of collagen and they can be lab simulated and incorporated into innovating skin rejuvenating formulas that help towards restoring one's youthful appearance.
Another advantage of the peptide GHK-Cu usage within research cosmetics is that, due to peptide's tiny size, they can penetrate deep into the skin layers in comparison with other skin care ingredients which fail to get past the skin's natural barrier. Peptides support the skin regenerative process by stimulating the production of collagen and anti-oxidants, and some of them are associated with the glycosaminoglycan synthesis production and copper molecules which benefit the skin due to their restorative properties.
Other great skincare peptides used in the research cosmetic field are the neuropeptides such as SNAP-8 which relax the wrinkle-prone facial muscles, producing a Botox-like effect without the presence of Botox neuro-toxins and eliminating the invasiveness of common cosmetic procedures.
What anti-aging peptides are most suitable for research purposes in the cosmetic field? Peptides like Argireline, GHK-Cu Copper Peptide, Biopeptide EL (Lipopeptide), Matrixyl and SNAP-8 are cosmetic peptides used by a large number of companies in their attempts towards formulating the best anti-aging products.
Peptide Sciences comes in the aid of qualified professionals doing laboratory experimentation and in vitro testing providing them with the highest purity research peptides manufactured in the US. Peptide Sciences is a leading supplier of popular cosmetic peptides like GHK-Cu Copper Peptide, Matrixyl, SNAP-8 and Lipopeptide, as well as other highly demanded peptides such as CJC-1295, Hexarelin, GH-Releasing Hormone, Sermorelin, Oxytocin, TB-500, IGF-1 proteins and Melanotan, all intended only as research chemicals. Peptide Sciences strictly forbids the use of these peptides other than for research purposes and by authorized professionals.
Peptide Sciences