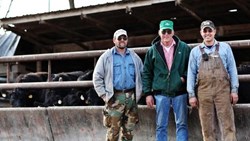 As we have become involved with recycling programs on our farm, we have made it a priority to create a profit margin while maintaining the integrity of recycling wastes and adding value to them.
Jefferson County, WV (PRWEB) January 27, 2014
A national PBS television program featured a Jefferson County farm operation, Lyle C. Tabb & Sons, LLC., during a segment that examined the nation's significant food waste problem and showcased individuals and businesses that have found profitable solutions.
On January 26th, NewsHour Weekend featured a five-year-old collaboration between Tabb & Sons and the food service operations at the Department of Veterans Affairs (VA) Medical Center in Martinsburg. The segment may now be viewed online at http://www.pbs.org/newshour/topic/weekend/.
Since 2009, Tabb & Sons has turned kitchen food scraps and cafeteria leftovers from the VA into "black gold" at their Kearnesyville farm, saving hundreds of pounds of food waste from the landfill each week. The waste-reduction collaboration begins at the VA's nutrition and food service department in Martinsburg, which is headed by nutritionist Barbara Hartman. The staff places food scraps into biodegradable bags which are then placed in recycled boxes and stored in a freezer. Every two weeks the food waste is picked up and taken to the Tabb farm to be composted.
"Our relationship with the VA has enabled us to realize another level of recycling that we did not think possible," said Cam Tabb, whose farm began large-scale recycling in the early 1990s. "I hope our story will educate others about creative ways to recycle and reduce landfill deposits of food waste, which is what we are all working for."
This collaboration has become one of the federal government's most successful food waste reduction programs according to Biocycle magazine. Other VA hospitals around the nation have replicated this model developed in the Eastern Panhandle of West Virginia.
According to the USDA and the Natural Resources Defense Council, 40 percent of food produced in the United States is not eaten. This translates into $165 billion worth of food annually.
The Tabb family farm is now in its fifth generation. Farm operations include grain crops, a 500-head Angus beef herd that is antibiotic and hormone free, and large-scale recycling of food scraps, yard trimmings, manure and wood wastes.
"As we have become involved with recycling programs on our farm, we have made it a priority to create a profit margin while maintaining the integrity of recycling wastes and adding value to them," said Tabb. "By making our recycling enterprise sustainable, the potential for expansion is endless, versus programs that depend on outside funding."
With 70,000 agriculturally productive acres, Jefferson County is one of West Virginia's top counties for agriculture. Tabb & Sons' large-scale recycling operation is just one of several progressive undertakings in the county. Farmers in Jefferson County use high tunnels to extend the growing season and increase the production of the land without the use of fossil fuels. And with the presence of the Freshwater Institute in Shepherdstown, the county is at the forefront of international aquaculture.
Jefferson County, WV, located in the Eastern Panhandle, enjoys a strategic Mid-Atlantic location, 60 miles from Washington D.C. and 45 minutes from Dulles Airport, with quick and easy access to Interstate 80 and the Eastern business corridor. It offers a business-friendly climate and the nation's fourth lowest cost of doing business.
Located in the 400-acre Burr Business Park in Kearneysville, the JCDA's mission is to provide an increased and diverse tax base for Jefferson County. The organization advances economic development, supports existing businesses and stimulates and promotes industrial, commercial and agricultural expansion. For more information visit http://www.jcda.net or contact us at 304-728-3255, info(at)jcda(dot)net.
-30-