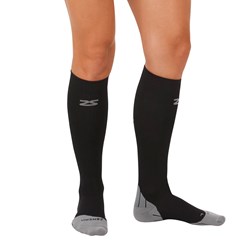 We see exponential growth yearly and the products bring true innovation to the market.
Munich, Germany (PRWEB) January 27, 2014
This week launches ISPO 2014 with more than 81,000 visitors from over 109 countries. Taking place Jan 26- 29th in Munich, Germany, ISPO is the international leading sports business trade show. It will feature trends from segments like Outdoor, Ski, Action, and Performance Sports, and will include compression apparel leader, Zensah® exhibiting in hall B3, stand 521.
Zensah®, a Miami-based compression brand, will exhibit at ISPO 2014 and will debut the release of their new Tech+ Compression Socks. According to Zensah®, the new socks are "200 Reasons Better" than traditional compression socks. While most compression socks are made with 168 needle count, Zensah® has taken it one step further making their socks with 200 needle count, ensuring they are more durable, denser and better fitting. Zensah®'s new Tech+ Compression Socks are perfect for runners, triathletes, skiers, and outdoor enthusiasts to wear for training, competition, and recovery.
In addition to the new product launch, Zensah® will also showcase their entire apparel and accessories line. This ranges from products like their #1 selling compression leg sleeves, seamless sports bra, knee sleeve, high compression tight, to their smart running gloves.
As a leader in compression, Zensah's® presence is seen globally. "We have distributed Zensah in Denmark since 2010. We see exponential growth yearly and the products bring true innovation to the market," says Skodsborg Sport, a Zensah distributor in Denmark.
Parker Robinson, spokesperson for Zensah®, says, "We attended ISPO many times and this will be our first time exhibiting. We are excited to share our innovations in apparel and explore the newest trends in the outdoor industry."
About Zensah: Zensah® is a Miami-based company, specializing in sports compression apparel. Their seamless compression products are praised by athletes and fitness enthusiasts, including runners, cyclists, triathletes, yoga enthusiasts, basketball players, golfers, and soccer players. Zensah® offers compression products for performance and recovery. According to Leisure Trends Group Specialty Running RetailTRAK™, Zensah® is the number one selling Compression Leg Sleeves in the USA for Running Specialty.
Parker Robinson
marketing(at)zensah(dot)com
ZENSAH® COMPRESSION APPAREL
(305) 935-4619