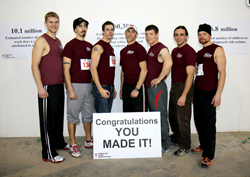 Gentle Giant Moving Company employees care about health and fitness, community involvement, and blasting up stairs, which is why we love being involved with the Race Up Boston Place stair climb.
Boston, MA (PRWEB) January 31, 2014
Gentle Giant Moving Company, an award winning Boston moving company, will apply their 34 years of experience running stairs on the job to the American Lung Association's "Race Up Boston Place" Fight For Air Climb this Saturday, February 1st at 8am inside One Boston Place (BNY Mellon Center at One Boston Place, 201 Washington Street, Boston, MA). Fight for Air Climbs take place in cities across the country in skyscrapers, stadiums, and arenas and are unique fundraising events for the American Lung Association.
This unique "vertical road race" challenges teams of all types, including firefighters and EMTs to raise awareness and funds for the Lung Association's mission to save lives by improving lung health and preventing lung disease. The more than century-old charity hopes to raise close to $400,000 at the Race Up Boston Place event this year to help fund research to treat, prevent, and cure lung diseases and support efforts including clean air and tobacco control advocacy; asthma education for families and schools; and smoking prevention and cessation services.
Since 2007, Gentle Giant Moving Company has assembled record setting teams consisting of employees of all ages and backgrounds ranging from movers, to salespeople, and department managers. This year, the local and long distance moving company has assembled a nine person team that has already over 50% of their $1000 fundraising goal. Gentle Giant Marketing Specialist and Race Team Captain Niles Kuronen is proud to help contribute this amount to the nearly $10,000 the company has raised for the American Lung Association over the past six years.
"At Gentle Giant Moving Company, our employees care a lot about health and fitness, community involvement, and blasting up stairs," explains Kuronen, "which is why we love being involved with the Race Up Boston Place stair climb."
Gentle Giant has a slight advantage at the Race Up Boston Place, because running stairs has been at the core of the company's culture ever since Founder and CEO Larry O'Toole created the tradition of taking every new hire to the Harvard Stadium to run the stairs of all 37 sections at the Stadium.
This Saturday on race day, each team member will run up all 789 stairs of the 41 story building as fast as they can. The top five individual times from each team will comprise the team's total time. If Gentle Giant records the fastest team time this year, it will mark the 8th year in a row they have finished as the fastest overall team. At the end of the 2013 Race Up Boston Place, Gentle Giant recorded the fastest team time and the top individual male time.
To cheer on the Giants or any of the other great teams, head over to One Boston Place this Saturday morning at 8am!
About Gentle Giant Moving Company, Inc.
Founded in 1980, Boston-based moving company Gentle Giant is an award winning residential and commercial mover, offering local moving, long distance moving, and international moving services. Named 2009 Independent Mover of the Year by the American Moving and Storage Association, one of the Boston Business Journal's Best Places to Work in Massachusetts in 2004, 2005, and 2006, winner of the 2006 International Torch Award for Marketplace Ethics by the Better Business Bureau, winner of the Better Business Bureau's Torch Award for Excellence in 2002, 2003, 2005 and 2008, nine-time winner of Boston Magazine's "Best of Boston," six-time winner of The Improper Bostonian's "Boston's Best Moving Company" award, thirteen-time winner of the Angie's List "Super Service" Award, 2007 Top Small Workplaces award from the Wall Street Journal and Winning Workplaces, and named a Healthiest Employer in 2013 by the Boston Business Journal, the company's services include craning, piano moving, complete packing and unpacking services, and other related services. Gentle Giant offers storage facilities and dispatches crews from more than 19 offices in California, Chicago, Massachusetts, New Hampshire, New York, North Carolina, Rhode Island, Virginia, Washington, DC and Washington State. For more information, please call (617) 661-3333 or visit.