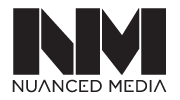 Tucson, AZ (PRWEB) January 29, 2014
Nuanced Media is a full-service marketing firm, specializing in digital, web-based marketing strategies. Because of this, Nuanced Media prides itself on keeping its own branding and marketing as current as possible. One way in which they've done this is by updating and rebranding their Tumblr page.
The Nuanced Media Tumblr is a free resource for anyone interested in web and web design, marketing, and brand strategy. Nuanced has also made the Tumblr blog easy to navigate by dividing it up into three sections: web, marketing, and brand. Under each section are relevant blog posts ranging anywhere from "how to navigate and submit an RFP," to "trends in web design."
The entire Tumblr is devoted to keeping individuals, particularly business owners, informed about marketing to a primarily digital, web-based audience. Nuanced Media is committed to making sure their customers have a complete understanding of the digital marketing industry in order to make the best marketing decisions possible.
Nuanced Media encourages anyone interested in digital marketing and web design to visit the Tumblr and explore. If you would like information about a related topic that you can't find on the Tumblr, feel free to contact Nuanced Media at contactus(at)nuancedmedia(dot)com to request a post.
About Nuanced Media
Nuanced Media is a digital marketing and graphic design firm. The company specializes in strategic, multilayer marketing campaigns and efficiently crafted, user-friendly websites. Based in Tucson, the company has a variety of clients throughout Arizona, California, and Texas. For more information, please view Nuanced Media.