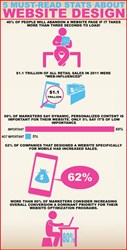 Tucson, AZ (PRWEB) January 30, 2014
About.com recently picked up an infographic created by Nuanced Media titled, "5 Must-Read Stats About Website Design." The infographic was posted under the web design/html category of About.com's computing section.
This particular infographic provides readers with a simple breakdown of some of the most important statistics surrounding good web design. Each of the five statistics provides insight into the power of certain, often overlooked, elements of web-design.
One statistic that we have all experienced, is that 40% of people will abandon a website if it takes more than three seconds to load. To go along with this, $1.1 Trillion of all retail sales in 2011 were "web-influenced." Thus, as businesses become increasingly reliant on the Internet to reach their target markets, a quick-loading site is crucial to attracting and maintaining customers. On the same note, 62% of companies that had mobile optimized sites saw an increase in sales.
Furthermore, dynamic and personalized content is gaining rising importance in the eyes of marketers. It's now possible to target not just a general market, but consumers individually, which is also a way to increase overall conversion within a business or agency's website optimization programs.
Overall, the infographic provides food for thought to businesses using the web or considering use of the web as both an advertising medium and direct revenue channel. About.com's publication of the infographic is further recognition that Nuanced Media is a reliable source for web-based marketing services.
About Nuanced Media
Nuanced Media is a digital marketing and graphic design firm. The company specializes in strategic, multilayer marketing campaigns and efficiently crafted, user-friendly websites. Based in Tucson, the company has a variety of clients throughout Arizona, California, and Texas. For more information, please view Nuanced Media.