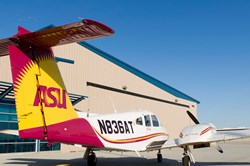 This distinction demonstrates that the FAA recognizes the academic rigor and high-quality standards of our aviation program.
Mesa, Ariz. (PRWEB) January 28, 2014
Graduates from the aviation program at Arizona State University (ASU) will now be eligible to receive their Airline Transport Pilot (ATP) rating with less flight time than required by most programs due to a special authorization from the Federal Aviation Administration (FAA).
"The FAA's approval for our program certifies that our graduates can earn their ATP rating with 1,000 flight hours, rather than the required 1,500 hours," said Randy Gibb, chair of the Department of Human and Environmental Systems at ASU. "This distinction demonstrates that the FAA recognizes the academic rigor and high-quality standards of our aviation program."
In August of 2013 the FAA announced a new rule requiring 1,500 hours of flight time for all copilots, matching the minimum requirement for captains. The rule was established in response to the fatal Colgan Air crash in 2009 that killed 50 people. The crash was partially blamed on pilot training hours. Previous flight time requirements for copilots to be hired by a regional airline was 250 hours, an ATP certificate was not required.
Following the new 1,500-hour rule, ASU applied for flight time reduction approval for graduates who completed a bachelor's degree in aviation. The FAA recognized that rigorous four-year coursework, as designed in the ASU aviation program, significantly enhances the knowledge and technical skills of students seeking careers as professional pilots.
"This 1,000 flight hour designation from the FAA offers a significant value to our current and future flight students at ASU," said Gibb. "With the shortage of commercial pilots expected in the next 20 years, our graduates pursuing a career in professional flight will be eligible for hire in the industry about a year earlier than most of their professional peers in other programs who will need to acquire 1,500 flight hours."
The 2013 Boeing Pilot & Technician Outlook projects that 498,000 new commercial airline pilots will be needed to fly the expanding world fleet of aircraft throughout the next 20 years. This forecast means the time is now for students to pursue a career in professional flight, says Mary Niemczyk, director of the ASU Aviation Program.
"The new FAA authorization along with our comprehensive academic program that gives students access to seasoned aviation professors with real-world experience, and industry state-of-the-art simulators, puts us on the leading edge of flight education in the United States," said Niemczyk.
The ASU Aviation Program is located on ASU's Polytechnic campus, across from the Phoenix-Mesa Gateway Airport where students receive flight instruction through ATP, Inc., ASU's flight provider. ASU students may also take advantage of pathway agreements for guaranteed interviews upon completion of their flight hours with regional airline companies.
ASU offers Bachelor of Science degrees in professional flight, air traffic management and air transportation management. In fall of 2014, ASU will launch a degree option in unmanned aerial systems.
About Arizona State University
Arizona State University is the largest public research university in the United States under a single administration, with total student enrollment of more than 70,000 in metropolitan Phoenix, the nation's sixth-largest city. ASU is creating a new model for American higher education, an unprecedented combination of academic excellence, entrepreneurial energy and broad access. This New American University is a single, unified institution comprising four differentiated campuses positively impacting the economic, social, cultural and environmental health of the communities it serves. Its research is inspired by real-world application, blurring the boundaries that traditionally separate academic disciplines. ASU champions intellectual and cultural diversity, and welcomes students from all 50 states and more than 120 nations.