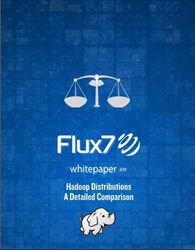 Austin, TX (PRWEB) January 29, 2014
Executive management teams in large companies adopting Big Data solutions, developers building tools for the Hadoop Ecosystem, and even newbies learning Hadoop for the first time can now easily compare the flexibility of the major Hadoop distributors' ability to meet their current and future business needs. Those comparative results and more are available today in a new white paper recently published by Flux7, a solutions company providing cloud optimization products, cloud consulting and implementation, specializing in DevOps and AWS development services, for small businesses through Fortune 500 corporations.
This free white paper examines Flux7's Hadoop distribution experiences with Big Data industry players Cloudera, Intel, HortonWorks and Mapr for those large companies that have developed their own Hadoop distributions as well as for start-ups seeking a ready-made solution. The paper provides subjective and objective assessments of the features of each distributor and measures their performance.
For a free copy of the detailed comparison, go now to http://flux7.com/hadoop-distributions-a-detailed-comparative-study-whitepaper/.
Flux7's white paper addresses the distributors of Hadoop, an open source framework for storing extremely large amounts of data, or Big Data, a term that's been buzzing around a lot lately. Its use is a trend that's been increasing at a steady pace over the past few years. Undoubtedly, big business executive management and developers also have encountered the term Hadoop when hearing and learning about Big Data.
"Our comparative report is focused on easing the selection of a Hadoop distribution," said Aater Suleman, CEO, Flux7. "The beauty of Hadoop distributions is that they can be customized with a wide range of feature sets that address the specific needs of different sets of users. When choosing where to spend its money, it's essential that a company find a distribution that's flexible enough to meet both current and future needs. Our white paper specifically lays that out for decision-makers and users."
In the white paper, some key results about the Hadoop distributors that Flux7 tested include:
Cloudera: smooth to implement, intuitive to use, and features a rich interface that employs all available screen space to display practical administrator information in a clean, uncluttered manner.
HortonWorks: the only distribution supporting Windows.
Intel: interface is very easy to navigate, and its search facility is also quite easy to use.
MapR: the most innovative of the four distributions tested, it displayed a stellar implementation, performing 2x times faster than the others in several of the benchmarks.
For more results and information, download the free report now at http://flux7.com/hadoop-distributions-a-detailed-comparative-study-whitepaper/.
About Flux7
Flux7 offers cloud optimization products, expert cloud consulting and implementation services for the escalation and management of computer systems. The principals of Flux7 have more than 20 years of combined experience with complex computer systems. The company is based in Austin, Texas, and is comprised of a healthy mix of passionate geeks and dedicated experts in advanced computing. Flux7 has presented its cloud consulting and training services to Bank of America, Sony and M.D. Anderson Cancer Center, among others. The company specializes in DevOps, and Amazon Web Services [AWS] deployments of LAMP Stack, Django, Tomcat, Node.js, NoSQL Databases, Hadoop, Twitter Storm and ElasticSearch. Its industry-best practices utilize Chef, Puppet, Vagrant, CloudFormation, SaltStack, OpsWorks, boto, and others.
For more information about Flux7 and its VyScale product, visit the company on the web at http://www.flux7.com. To learn more now, email at info@flux7.com or call +1.512.763.0077. Also, to get the latest industry news and trends, go to http://www.flux7.com/blogs/; like us on Facebook at http://www.facebook.com/Flux7Labs; follow us on Twitter at http://www.twitter.com/Flux7Labs; and connect with us on LinkedIn at http://www.linkedin.com/company/Flux7-Labs.