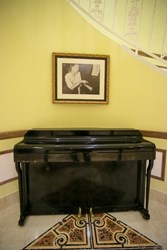 Princess Grace enjoyed playing this piano. We're proud to have this beautiful - and romantic - piece of history here at Breezes Bahamas for our guests to enjoy.
(PRWEB) January 28, 2014
The piano was on board the 298-ton 147-foot yacht (built in the 1920s) given to Prince Ranier and Princess Grace of Monaco as a wedding gift from Aristotle Onassis. In 1956, the royal couple honeymooned aboard the yacht along the coasts of Corsica and Sardinia. Princess Grace often played this piano for Prince Ranier and their guests aboard the yacht, which was christened Deo Juvente II.
In 1987, John Issa, owner and chairman of SuperClubs - the parent company of Breezes Bahamas - acquired the yacht along with the piano. Bearing the name M/Y Zein after one of Issa's daughters, the vessel was fully restored before taking up residence along the coast of Negril, Jamaica where it remained the official yacht of one of Issa's popular beach resorts for nearly twenty years.
"Princess Grace enjoyed playing this piano," said Muna Issa, vice president operations to SuperClubs. "We're proud to have this beautiful - and romantic - piece of history here at Breezes Bahamas for our guests to enjoy."
Guests of Breezes Bahamas can now view the piano, on display in the foyer of the brand new Banana Boat restaurant, which opened in early January 2014.
Breezes Bahamas Resort & Spa
Breezes Bahamas, the first and only Super-Inclusive resort in The Bahamas, sits on legendary Cable Beach where guests can sink their toes into the white sand under the Caribbean sun. The beachside resort boasts activities ranging from rock wall climbing, tennis, and beach volleyball to kayaking and windsurfing. Guests can also indulge in relaxing spa treatments at the à la carte Blue Mahoe Spa. At night, adults can enjoy a lively piano bar which stays open until the last person leaves, or they can take their chances at one of the many nearby casinos. For young adults, the resort prepares activities throughout the day and the evenings such as local Bahamian performances, games and more to keep them entertained. The resort welcomes singles, couples and families with children age 14 and older.
Breezes' "Super-Inclusive" concept offers the best vacation value. Make a single payment for accommodations, all meals, and multiple dining options including Continental, Italian, and authentic regional cuisine, unlimited premium brand drinks, myriad land and water sports including equipment and instruction, entertainment, weddings, recreational activities and hotel taxes. Gratuities are included.
SUGGESTED TWEET: Princess Grace's piano now on display @Breezes_Resorts. #romantichistory.
For more information or reservations, visit http://www.breezes.com, call 1-877-BREEZES (273-3937) or contact a local travel agent.
###