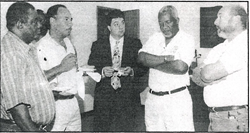 As far as I have been able to determine I see no major obstacles that will prevent Jamaica from passing the fourth quarter IMF test...
(PRWEB) April 07, 2014
Chairman of the Cool Group of Companies, leading businessman Joe Issa, says in an interview that Jamaica will pass the March 2014 fourth quarter IMF test due to start later this month despite the challenges faced by the Government but wants the gains made so far to be consolidated in order to prevent the programme from going off-track.
"As far as I have been able to determine I see no major obstacles that will prevent Jamaica from passing the fourth quarter IMF test and I think it is critical for the authorities to start consolidating the gains made so far to avoid the programme going off-track," Chairman of Cool Corporation, Joe Issa, says in an interview.
Noting that Jamaica has passed the preceding three quarterly tests, Issa says a passing grade in the fourth will put the country in good stead for favourable consideration by local and international investors and multilateral institutions.
Jamaica's high debt of some 145 per cent of Gross Domestic Product (GDP) and low growth over the years led to an Extended Fund Facility (EFF) arrangement of US$958 million with the IMF to support its economic reform programme (ERP).
As a condition of the EFF, which is to be disbursed over four years, the IMF and the Government agreed on a set of targets to be met over the period and the policy initiatives to achieve them.
A press release by the Government's news agency JIS, says "Overall, the ERP aims to, among other things: reduce Jamaica's debt from 145 per cent of the gross domestic product (GDP), to 96 per cent by 2020; attain a 7.5 per cent primary budgetary surplus target; and expenditure containment, inclusive of public sector salary restructuring to reduce the ratio to GDP from 10.6 per cent, as at March 31, 2013, to nine per cent by fiscal year 2015/16."
But with three successful quarterly reviews under his belt, Minister of Finance and Planning, Dr. the Hon. Peter Phillips, who is spearheading the ERP, has confirmed that the March fourth quarter will be challenging given the programme of work, parliamentary agenda and "the very steep targets." He says the Government also saw the next phase of the programme as one of consolidating the gains thus far.
"Consequently, with continued support of the multilateral development partners we will be pursuing major reforms - public-sector financial management and overall public-sector modernisation, fiscal rule, omnibus banking (and) reforms to the securities dealers sector for which work is well advanced," Dr. Phillips says.
However, Issa says he is concerned about one aspect of the fiscal rule legislation passed to limit spending. According to a JIS press release on March 20, 2014, "The Financial Administration and Audit (Amendment) Act provides for an escape clause to be effected with parliamentary approval, allowing for the suspension of fiscal rules for a specified period upon the occurrence of major adverse shocks, such as natural disasters, severe economic contraction, public emergency, or a financial sector crisis."
Says Issa: "Jamaica has experienced all of these shocks before and if any of these should occur again, heavens forbid, I hope the escape clause will not be used as an excuse to squander the gains we have made after so much sacrifice and progress so far."
He points out, as contained at JIS, that "Jamaicans have made a lot of sacrifices to get us to where we are now with the IMF programme; they have foregone $17 billion in government interest due to them, in the successful National Debt Exchange and public sector workers have given up billions of dollars in wage increases so as to reduce government spending."
Noting that there is so much more left to be done given the need to maintain fiscal discipline and stability in the financial system Issa says, "I'm concerned that these efforts may cave-in along the long and winding road ahead causing the programme to go off-track, as has happened before."
"Moreover, with a general election coming before the end of the programme there may be compromises for political expediency which can derail the relationship with the IMF," Issa argues.