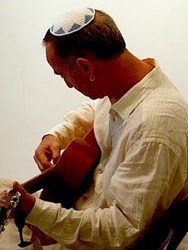 The full course of study leading to ordination as Cantor and Spiritual Leader costs a fraction of the amount that would be spent in a mainstream Seminary.
New York, NY (PRWEB) January 30, 2014
JSLI - The Jewish Spiritual Leaders Institute, is proud to announce the introduction of their innovative new JSLI Cantorial School, an online program offering training for the Jewish Cantorate. Their mission is to perpetuate our tradition's beautiful "nusach" (liturgical melodies) and also support all styles of musical liturgical worship. Cantors are prepared to educate communities about Jewish musical traditions and meet the musical needs of each specific community.
A Cantor (or Hazzan) is a musician trained in the vocal arts to lead Jewish congregations in soulful prayer. Historically, Hazzanim- gifted singers trained in the traditional Jewish musical modes ("nusach') - have represented the spiritual aspirations of people assembled to worship in Synagogue. Their beautiful voices elevate the worship experience, involve everyone in community singing and in general, create the appropriate Kavanah ("direction of the heart").
Mainstream Cantorial Schools require four to five years of tuition and full-time study to become ordained as a Hazzan or Cantor. But today, with the decline in membership and budget constrictions in synagogues, Cantors are finding fewer and fewer job opportunities when they enter the job market. Indeed, Rabbis or Cantors who can perform both Spiritual Leadership roles are more in more in demand.
In light of this dilemma, JSLI offers an exciting program to prepare Cantors for the future of Judaism.
The full course of study consists of four study modules- Shabbat, High Holidays, Festivals, Weekdays and additional Life Cycle Master Classes. Successful completion of the program leads to Ordination as "Cantor and Spiritual Leader". JSLI's Cantorial program costs a fraction of the amount that would be spent in a mainstream Seminary.
Students study at their own pace and meet online twice per month with a professional Cantor as well as other students.
They embrace both traditional nusach and the music of modern Jewish communities and strive to harmonize the two. In addition, they encourage the use of musical instrument accompaniment if appropriate within their communities and help arrange selections with chordal accompaniments.
Unique to their program, a student may choose to study any single module and not matriculate or delay proceeding with Cantorial Ordination. This might be appropriate for someone who might intend to be a Cantorial Soloist for the High Holy Days.
The JSLI Cantorial School curriculum derives from Jewish musical tradition and focuses on the Jewish musical modes. There are four major modules of study at the JSLI Cantorial School: High Holidays, Shabbat, Weekdays and Festivals. Each module may be studied until the student is proficient at leading those Services.
There are online mentoring sessions twice per month led by a professional Hazzan (from September through June). During classes students have the opportunity to sing and demonstrate your progress. In this way, learning is low-pressure (no commute) and high-value (maximum learning in a short time).
Before a student may proceed to a new module his/her proficiency must be demonstrated by leading all of the module's liturgy online for a professional Cantor/Hazzan. If the student successfully leads the relevant Services, a certificate stating proficiency in that area of study will be issued and then the student may proceed to any other module.
Each module's "nusach" has been selected from the Cantorial text books of some of the most important Hazzanim in our Jewish liturgical music tradition. All selections have been chosen as beautiful and representative of our musical traditions.
All of the selections have been newly recorded and match the notated music in the required text books. Most selections are not overly complex and even if a student cannot play an instrument, they can be guided visually by the written notes. And of course, students can take as long as they need to learn each module.
So apply now to JSLI's Cantorial School, learn to sing the beautiful music of our Jewish Heritage and live your calling to become a Cantor and Spiritual Leader!
See the videos of Rabbi and Cantor Steven Blane, Dean of the JSLI Cantorial School.