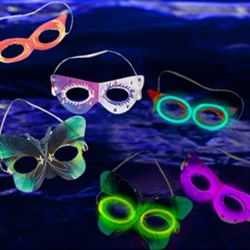 Los Angeles, CA (PRWEB) January 31, 2014
Mardi Gras or "Fat Tuesday" is a special day that occurs in the Catholic religious calendar right before the beginning of Lent.
Lent is traditionally a time of sacrifice and repentance in preparation for the resurrection of Jesus Christ on Easter, and Mardi Gras is the last opportunity to "let loose" before the 40 days of spiritual contemplation and sacrifice begins.
The traditional Mardi Gras party has become a way to bring a high level of energy and fun to your social event before the Easter preparations begin.
A glow-themed Mardi Gras party is the perfect way to really ignite this type of event, with glow in the dark party supplies keeping the fun coming throughout the evening.
The Spirit of Mardi Gras:
Mardi Gras has become such a high-powered time of fun and excess due in part to the cultural atmosphere of New Orleans, in which socializing, parties, community events and group activities has become an important factor in the life of the city.
Giving vivid and colorful parties has become a standard custom for this pre-Easter holiday. With Mardi Gras parties lasting well into the night with lots of raucous music, dancing and fun, a glow in the dark party is naturally a fitting theme for the celebratory events at this time of year.
Decorating For Your Party Location:
Mardi Gras is the perfect opportunity to pull out all the stops in your decoration plans. A glow party can be just the thing to make your Mardi Gras celebration memorable to friends and family.
Use the early darkness of this time of year and use glow in the dark party favors or decorations to light the night. Glow in the dark centerpieces can really set a room off and can also be used as lighting.
Light up balls strung on garlands immediately give the room a festive look. Darken the indoor lights and use glow cups, cutlery, lighted ice cubes, glow necklaces and other items to provide the backdrop for party fun.
Glow in the dark glasses, finger lights and glow bracelets make fun and unusual take-home party favors for your guests.
Explore the wide range of glow in the dark party supplies and light-up products found at Glowsource.com that can help to make any Mardi Gras party the most memorable of the year!
About Glowsource.com:
Glowsource.com carries the newest and hottest party supplies and decorations for tons of event types and holidays, including Super Bowl, Valentine's, Mardi Gras, St. Patrick's Day, Cinco De Mayo, Easter, July 4th, Labor Day, Halloween, Christmas, Hanukkah, New Year's, birthdays, weddings, graduations, bar mitzvahs, bat mitzvahs, church events, school dances and events, bars and nightclub glow nights, and many more.
Offering wholesale/bulk and discounted prices, Glowsource.com is a complete one-stop shop for must-have glow and light up party novelties.
Established in 1999 with the introduction of "Cool Glow" drinkware, Glowsource.com has since been bringing customers the latest lighted and glow party supplies to make parties tremendous fun.
With 13 years experience and superior customer service, Glowsource.com is the ultimate glow party supply shop!
Contact:
Glowsource.com
Whitney Callahan
(323) 878-1280
whitney(at)glowsource(dot)com