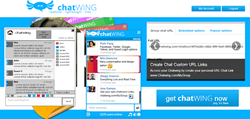 Cambridge, MA (PRWEB) February 06, 2014
Gaming is now one of the strong niches being observed by Chatwing Development Team—a company known for creating helpful website apps and widgets. The developers of the company believe that the gaming niche will continue to flourish, since many consumers want to be entertained. In line with this, Chatwing chat software created a chat box that can help gamers share their beneficial walkthroughs.
Here are the features of Chatwing's premier chat app:

Advanced customization. Game bloggers can use Chatwing widget's dashboard to modify the appearance and functions of all chat rooms. All registered users of the Chatwing widget are entitled to make unlimited chat rooms. All of these chatrooms can have different styles and appearances. To edit styles, the user can combine colors, sizes, and fonts. For faster modification, the dashboard has premade background templates.
Social media connection. Through the widget's social media connectivity, gamers can now exchange game walkthroughs, as well as video tutorials and snapshots. They can also share important game secrets, such as hidden locations and treasures. Moreover, chat room software gamers will have the opportunity to reach more groups, pages, and communities. Visitors can log in through Facebook, Twitter, Instagram, Tumblr, Google, and Yahoo accounts.
Chat networks. Each Chatwing app has the capability to connect the user to various networks; these networks act like categories that have different topics. Currently, Chatwing has over 10 available networks. Gamers can link their chatrooms to all of these networks, as often as they want.
Developers are now planning for more Chatwing chat widget improvements. These upgrades will be introduced throughout the year.
About Chatwing.com
Chatwing.com is a company that has brought innovation to the modern chat widget. Operating for more than five years now, Chatwing and its team of developers have dozens of ideas ready to be introduced to the public. The Chatwing chat app is an easy-to-use online tool that can help web users interact with each other and can also generate continuous traffic. Chatwing will always be a "freemium" application for everyone.