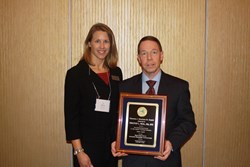 Help us congratulate our 2014 Award and Scholarship recipients on doing their part to provide service, support, and a bright future to the profession of AT!
Syracuse, NY (PRWEB) January 30, 2014
On Saturday, January 11, 2014, NYSATA announced and recognized the recipients of its 2014 awards and scholarships during the NY state business meeting at the regional athletic training conference in Mashantucket, CT. Plaques were presented to two professional award and three student scholarship winners.
The Thomas J. Sheehan Jr. Award is presented to an athletic trainer whose character, commitment and achievements in the athletic training (AT) profession clearly exemplify the traits of Thomas J. Sheehan Sr., who is one of the founding fathers of the AT Profession nationally and in NYS and was a long-time Head Athletic Trainer at RPI.
Tim Neal, MS, ATC, Assistant Director of Athletics for Sports Medicine at Syracuse University, was honored with the 2014 Thomas J. Sheehan Award. Mr. Neal has worked at Syracuse in various capacities for over thirty years and created the University Athletic Department's 'Catastrophic Incident Guideline', a document that became the template used by the National Collegiate Athletic Association (NCAA), National Athletic Trainers' Association (NATA), US Olympic Committee, and various professional and intercollegiate sports organizations and institutions. More recently, Mr. Neal chaired an NATA task force that published "Inter-Association Recommendations in Developing a Plan for Recognition and Referral of Student-Athletes with Psychological Concerns at the Collegiate Level: A Consensus Statement" (JAT, Oct. 2013). Further service to AT includes membership on the Judicial Panel of the NATA's Committee on Professional Ethics and the NYS Education Department's (NYSED) Committee for Athletic Training, as well as former chair of the NYSATA Scholarship Committee. Extending beyond AT organizations, Mr. Neal is NATA's Liaison to the NCAA Football Rules Committee and he has been a panel member at the NCAA's Concussion in Sport Medical Management Summit. Mr. Neal was honored with the NATA's Most Distinguished Athletic Trainer Award in 2010.
The 2014 recipient of the Kent Scriber Recognition Award is Bob O'Malley, MEd, ATC, who works as the athletic trainer at Williamsville South High School through his position with Excelsior Orthopedics in the Buffalo area. Mr. O'Malley has been involved in professional service since the late 1990's when he joined the EATA Conference Development Committee, for which he now chairs the Exhibits Committee. He also spearheaded the "BCBS WNY Head Injury Seminar," a comprehensive concussion awareness program held prior to the 2013 EATA Conference in Buffalo, NY last January that was open to the public at no charge thanks to the sponsorships he was able to secure. In 2006, the EATA honored Mr. O'Malley with the President's Recognition Award and, in 2013, he received the NATA Service Award. Now serving as NYSATA's Region 7 Representative for the greater Buffalo area, he has also participated in various promotion and outreach events across NYS, including the 2013 NYS Academy of Family Physicians conference and the 2013 joint conference of the NYS Society of Orthopaedic Surgeons (NYSSOS) and Clinical Orthopaedic Society (COS). Mr. O'Malley has also been a Sports Medicine volunteer for the US Olympic Committee (USOC) since 1994. The Kent Scriber Recognition Award, introduced just last year to acknowledge those who positively reflect the goals and mission of NYSATA and the profession of AT through acts, promotion, support and/or service, was named for its inaugural recipient, Kent Scriber, EdD, PT, ATC (Ithaca College) who continues to serve in multiple roles within AT education and service.
The John Sciera Service Award, given in recognition of members or supporters for their service and/or outstanding contribution to the profession of AT in NYS, was awarded to NYSATA Public Relations (PR) Chair, Kristy K. Hart, MS, ATC, CSCS, (Brockport, NY). In her role as PR Chair, Ms. Hart was instrumental in leading a successful 2013 National Athletic Training Month (NATM) campaign in NYS. In addition to successfully promoting AT across the state with numerous initiatives, the efforts significantly contributed to NYSATA winning its first-ever NATM award in the NATA's PR contest for "Best State Effort". In addition to NATM, other service to NYSATA includes writing and circulating frequent press releases – up to two per month, organizing 'AT Recognition Week' in NYS for the fall sports season, assisting with regular updates to the website, and managing promotion and outreach events that help with sports safety awareness and legislative efforts in NYS. In addition to her volunteer position with NYSATA, Ms. Hart serves on the NATA District 2 Employment Resource Committee and currently works as a per diem athletic trainer in the Rochester area. Ms. Hart will be formally recognized and presented with her award during the 2014 NYSATA Conference in Jamestown, NY in early June.
Three undergraduate AT student scholarships were also awarded during the ceremony. The NYSATA Scholarship went to Norville Yearwood (Peekskill, NY) of Dominican College. Mr. Yearwood is in his second year in the Athletic Training Education Program (ATEP) and, after transferring in from another college, earned a 3.9 GPA in his first semester at Dominican. He was described by one of his faculty mentors as "self-motivated" and an "academically talented student with a passion for athletic training and strong moral character."
Michelle Bandell (Hampstead, MD) of Hofstra University was awarded the Ed Abramoski Scholarship, named after the legendary former Buffalo Bills Head AT. Currently a senior in the ATEP, with a minor in Physical Education and Sport Sciences, Miss Bandell holds a 3.8 GPA and has been a regular on the Dean's List. She participates in Hofstra's Athletic Training Society, holding the position of Secretary, and was noted by one of her supervising ATs as "confident and in command of her [clinical athletic training] tasks beyond what is typical for the average student of her level."
The recipient of the NATA District 2 Scholarship for NYS was Andrew Claypool (Horseheads, NY), a senior in the ATEP at Ithaca College. Currently, Mr. Claypool holds a 3.82 GPA, has been on the Dean's List all four years, and has been awarded several other academic scholarships at Ithaca College. His academic and clinical mentors describe him as having a "level of dedication, leadership, and motivation rarely seen in someone his age" and being an "exemplary role model for the [younger] students."
An additional award, the Joseph Abraham Award, which is given annually to the NYS high school that has provided outstanding athletic injury care to the student-athletes of their school, was also announced. Joe Abraham was a pioneer during his 40 years as an athletic trainer and one of the first professionals to recognize the need for quality athletic training programs at the high school level. This year's winner of the Abraham Award is Hendrick Hudson High School (HHHS) (Montrose, NY) and their athletic trainer, Meg Greiner, MS, ATC. In addition to employing Ms. Greiner, who has more than fifteen years of experience as a certified athletic trainer, to provide sports healthcare to their 60-plus Varsity, JV, and Modified sports teams, the school also provides a 250-square-foot athletic training room for the treatment and rehabilitation of its 800-plus student-athletes. The team physician, a local pediatrician, assists Ms. Greiner and HHHS directly with their Concussion Management program and is onsite often to enhance the quality of care during events. HHHS and athletic trainer Meg Greiner will be honored and presented with their award during the next School Board meeting at the school later this spring.
Please join us in congratulating all of our 2014 Award and Scholarship recipients on doing their part to provide service, support, and a bright future to the profession of AT!
NYSATA, founded in 1976 and incorporated in 1989, stands to advance, encourage and improve the profession of athletic training (AT) by developing the common interests of its membership for the purpose of enhancing the quality of healthcare for the physically active in NYS. Athletic training is practiced by certified athletic trainers (ATs), who have expertise in the assessment, emergency management, rehabilitation and prevention of acute and chronic sport-related injuries, illnesses and conditions, including concussions. Comprised of over 1,200 certified and practicing athletic trainers, NYSATA is the state-wide affiliate of the regional EATA and District Two of the NATA.