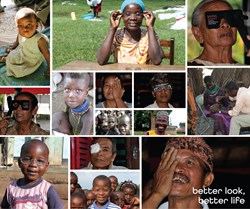 "We take glasses and eye care for granted, but for 285 million people, it's not that simple. I've decided to do something about it and hope that people fortunate enough to be able to read this will join me." - Carol Pearce, CEO Naked Specs.
(PRWEB) January 30, 2014
There's a diverse range of styles that will appeal to a wide cross-section of people. From hipster features to geek chic glasses (and stylish names such as Sevilla, New York and Valencia), the range has, according to founder Carol Pearce, 'a number of ultra light and feminine frames including a cat's eye collection, as well as wooden and bamboo frames.'
The online store at nakedspecs.com is easy to browse, with frames grouped into collections and features virtual try-on software. The team at Naked Specs will even call optometrists direct for customer's prescriptions! All glasses are manufactured to order with high index extra-thin lenses, and scratch resistant lens coatings are included in their low prices. Customers can save hundreds of dollars buying great glasses with the added bonus of giving to those less fortunate, choosing from a range of eye-care initiatives to personally support in less developed countries when they checkout.
"I am excited about Naked Specs commitment to community giving," says Pearce. "I want people to be able to shop with a conscience and make a difference."
nakedspecs.com launched on 23 December 2013. Privately owned by Carol Pearce who is based in Perth, Western Australia, the company distributes glasses worldwide, with most orders delivered within a week. Pearce is a well-known entrepreneur in Western Australia with a talent for her involvement in start-ups. She is passionate about 'changing the way the world sees' and bringing high quality glasses to the world at affordable prices. Pearce is currently available for interviews and loves to talk about 'business for good'.
When asked why she calls her business 'Naked Specs', Pearce says, "because we want to be transparent. We're not about expensive fakery – we're…Naked…and a little bit cheeky!"
Photographs
High resolution images are available for immediate download from [https://www.dropbox.com/sh/9e6jxyvybt6dv0u/768ID8kbB4 __title__ Dropbox Link for Naked Specs high res images].
Low resolution images are available for immediate download from [https://www.dropbox.com/sh/cllur5j03vqiyph/pq_QiG0KAX __title__ Dropbox Link for Naked Specs low res images].
Shopping

Glasses from $90
Includes extra-thin lenses and coatings
Free worldwide shipping
No-fuss returns
Community Giving
Buy 1 pair and Naked Specs gives 5 pairs to people in need
285 million people in the world are blind or visually impaired
80% is preventable or curable
90% live in developing countries