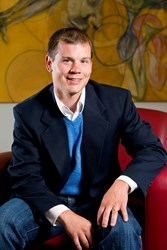 Going back to school to pursue my Post Bacc Certificate in Accounting really pressed the restart button on my career.
McMinnville, OR (PRWEB) January 29, 2014
Linfield College announces the spring start of its Post Baccalaureate Certificate in Accounting. The online accounting certificate program is designed to be completed in twelve months.
The Post Baccalaureate Accounting Certificate prepares graduates to qualify for positions in public accounting, corporate accounting, government and non-profit accounting. Linfield College designed the program to help bachelor's degree graduates to embark on careers in accounting, or to increase their value in their current organization by mastering specialized accounting knowledge.
The program consists of 24 required credits completed over three consecutive semesters covering Intermediate Accounting, Cost Accounting, Federal Income Tax, Auditing, and Advanced Accounting. Optional courses in Business Law and Government/Not for Profit Accounting are also offered. The online coursework is designed to be taken along with full-time employment or other commitments.
Graduates of the Post Baccalaureate Accounting Certificate qualify to sit for the Certified Public Accountant (CPA) exam when credits from the standard bachelor's degree are combined with the certificate credits. The Accounting Certificate also prepares students to take the Certified Management Accountant (CMA) exam.
For students with a non-business bachelor's degree, the Accounting Certificate provides an intensive introduction to the accounting field, which makes it possible to change careers into accounting-related positions that will increase earning potential and career opportunities. Linfield's accounting instructors have extensive experience in the accounting profession. All courses are taught to the standards of industry and the state boards of accountancy.
Applicants to the Accounting Certificate Program must have a bachelor's degree in any field of study from an accredited college or university. In order to enroll in the certificate courses, they must complete financial and managerial accounting. If students have not taken these two courses, they can do so online through Linfield prior to the start of the Accounting Certificate courses. The college also offers an online bachelor's degree in accounting for those looking to complete their first bachelor's degree.
This Accounting Certificate Program is a wise investment for professionals aiming to increase their earning potential. When considering the increased earning power the certificate provides, the financial investment required for the program is modest, with tuition and online fees at $11,340 and textbooks estimated at $1,760. As a point of reference, accountants' and auditors' median annual wage is $63,550, according to the most recent Occupational Outlook Handbook of the US Bureau of Labor Statistics.
The program has increased many graduates' career opportunities in accounting. Alum and licensed CPA Brian Roberts says, "Going back to school to pursue my Post Bacc Certificate in Accounting really pressed the restart button on my career." Roberts' completion of the Accounting Certificate made him CPA eligible and he promptly landed a position at a public accounting firm.
While there are various accounting programs out there, Linfield College's program holds a special draw, in part because of its respect among employers. "Linfield was recommended to me by my boss, so that carried quite a bit of weight with it. Linfield has a very good reputation," says Jeremy Gingerich, graduate of the Linfield College Accounting Certificate program and a licensed CPA. Combine the program's reputation with the ease of learning accounting online and the financial benefits of completing the program while working, and Linfield's Post Baccalaureate Certificate in Accounting is a working adult's dream.
About the Linfield College Adult Degree Program
Chartered in 1858, Linfield College is one of the first colleges in the Pacific Northwest and is regionally accredited by the Northwest Commission on Colleges and Universities. The Adult Degree Program offers adults the opportunity to earn a bachelor's degree or certificate online in ten fields of study.
Online programs offered by Linfield College Adult Degree Program include an online management degree, business information systems degree, accounting degree, online marketing degree, RN to BSN degree and international business degree and certificates in human resource management, post baccalaureate accounting, computer information systems, and marketing.