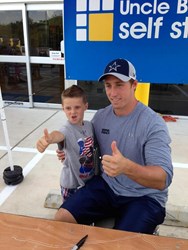 North Richland Hills, TX (PRWEB) January 30, 2014
Dallas Cowboys fans will get a chance to meet the team's star linebacker Sean Lee. Lee will meet fans and sign autographs from 1:00-3:00 pm local time on Saturday, February 8th at the Uncle Bob's self storage facility at 5575 Davis Boulevard in North Richland Hills, TX 76180.
This will be Lee's second appearance at an Uncle Bob's – his first visit in San Antonio brought in more than 400 eager fans.
"Sean was amazing the last time he visited us, so we wanted to give more Cowboys fans the chance to meet him," said Kevin Bagwell, area manager for Uncle Bob's Texas storage facilities. "We know how much the Dallas/Ft. Worth community loves their Cowboys, and we're just as excited as the fans for this event."
As an added bonus, the event will also play host to the Ultimate Fan Cave Grand Prize drawing. Uncle Bob's and the Cowboys ran a weekly trivia contest on Twitter during the NFL season, and 11 finalists emerged from the contest. The finalists will visit Uncle Bob's on February 8th, and each will be given a key. Only one key will unlock the storage unit that contains the Ultimate Fan Cave prize pack, which includes a 55" LED TV, team merchandise and more.
"We knew Cowboys fans loved their team, but we were still taken back by how many people entered the contest," said Chris Laczi, marketing director at Uncle Bob's. "It's been fun seeing the contest unfold, and whoever opens the storage unit will have an incredible set up for watching the Cowboys next year."
For more information on the event, visit the event page at UncleBobs.com/Lee.
About Sean Lee
Sean Lee is a linebacker for the NFL's Dallas Cowboys. He was drafted 55th overall in 2010 out of Penn State. In 2010 he was named both the NFC Defensive Player of the Week and Defensive Player of the Month. In 2012, he tied the Cowboys team record for most tackles in a single game with 14. Lee was recently named the NFC Defensive Player of the Month in October 2013.
About Uncle Bob's Self Storage
Uncle Bob's Self Storage® is owned by Sovran Self Storage, Inc., (NYSE:SSS) a real estate investment trust (REIT) that acquires and manages self storage facilities. The Company is one of the largest self storage operators in the United States with more than 480 self storage facilities in 25 states. Uncle Bob's currently has 30 locations in the Dallas/Ft. Worth area.