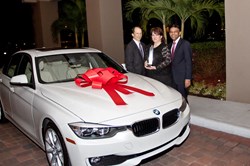 Orlando, FL (PRWEB) January 29, 2014
Sales Associates from each hotel in the JHM Hotels portfolio joined the corporate support team in lovely Orlando, where they networked with one another for three days of training, inspiration, serving and honoring. The annual sales conference allows a diverse group of JHM sales leaders and corporate/regional staff to come together and learn from one another. It is a means of building camaraderie and celebrating each other's achievements over the past year. As the associates embraced this year's theme, "No Boundaries," they learned that the only barriers that hold them back are those placed on themselves.
The highlight of the conference was an evening of recognition and celebration. Awards were presented to thirteen top performers for their achievements in 2013 including: Sales Innovator, Sales Rookie, Sales Culture, Event Manager, Catering Manager, Revenue Manager, Sales Leader and Sales Team of the Year. Recipients were awarded a variety of benefits ranging from additional days off and cash awards to highly desired vacation destinations.
The top honor, Sales Leader of the Year, was awarded to the sales professional whose dedication and leadership inspired their team in reaching amazing results. This hard working and dedicated individual received the use of a BMW 320i for one year. Kris Bryant, Director of Sales and Marketing for Courtyard by Marriott Greenville and Fairfield Inn Greenville, earned this esteemed honor for her phenomenal efforts that led to achieving 102% of budget and 7% ADR growth at Courtyard Greenville and 107% of budget with 13% ADR growth at Fairfield Greenville. She is a supportive teammate and an experienced mentor, a "go to" resource for the salespeople in her region. Kris also assisted in the training of new Director of Sales employees, participated in sales blitzes for other JHM properties, and has volunteered to take on any task needing a seasoned professional to handle. Kris is a joy to work with, her competitive spirit and commitment to JHM is contagious and she has been instrumental in redefining and shaping our sales teams. Congratulations Kris on a job well done!
Commenting on the Sales Conference overall, Michael Smith, V.P. of Sales and Marketing, believes "Bringing our team together in Orlando provided our associates the opportunity to learn more about the state-of-the-industry and the future vision of the JHM Hotels. It also allowed associates to engage in extensive training. The participants left the successful conference energized and empowered to address their challenges and opportunities, to drive more revenue and to gain market share at their respective hotels." With hard work and continued dedication the JHM team can continue to thrive and succeed in the hotel industry, where they have learned there are "No Boundaries" that can keep them from their goals.
The conference attendees also participated in an afternoon of giving through JHM's O.N.E. (Outreach, Nurture, Encourage) initiative. Employees were able to choose a community service project in the Orlando area that was near to their heart. One group of JHM associates painted the interior of the Coalition for the Homeless of Central Florida shelter, another worked at The Mustard Seed of Central Florida taking apart mattresses for a recycling program. Group three worked to "Scrub the Club" at the local Boys & Girls Club and then assist the children with homework and of course playtime, and the last group traveled to the SPCA of Central Florida where they were able to socialize the pets and assist in cleaning the facilities. Through each service project, the associates were pleased to have the opportunity to give back and show how much they care. With over 90 participants working together, JHM most certainly made a positive impact on the Orlando community.
###
About JHM Hotels:
JHM Hotels, a premier lodging company, based in Greenville SC, has developed, acquired, owned, and operated hotels throughout the United States for 40 years. The company currently owns and operates 41 hotels with over 7300 guestrooms, located in the United States and India, operating under such well-known brands as Hyatt, Marriott, Hilton and Starwood.