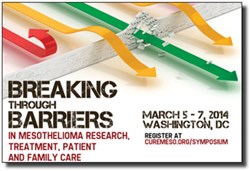 He has been a leader in the field of mesothelioma research, and every one of his many contributions brings us that many steps closer to life-saving treatments for mesothelioma patients.
Alexandria, VA (PRWEB) January 30, 2014
The Mesothelioma Applied Research Foundation announced today that the 2014 recipient of its Pioneer Award is Michele Carbone, MD, PhD, for his remarkable achievements in mesothelioma research.
Michele Carbone, MD, PhD is a Professor of Pathology and the Director of the University of Hawaii Cancer Center, a National Cancer Institute designated Consortium Cancer Center affiliated with the University of Hawaii - Manoa. He has published over 150 peer-reviewed papers, most in the area of the pathogenesis of mesothelioma.
In addition to his impressive publication record, Dr. Carbone is known in the mesothelioma community for his tireless work in the Turkish region of Cappadocia, where mesothelioma causes 50% of all deaths. Dr. Carbone discovered that a combination of environmental exposures and genetic predisposition were the reason for such a high incidence of mesothelioma among the villagers. Taking his role as a scientist a step further, alongside famed Turkish professor Izzettin Baris, Dr. Carbone demonstrated his compassion by convincing the Turkish government to move and rebuild the affected villages, thus removing them from the environmental exposures.
Dr. Carbone's studies in Turkey led him to a life-long quest to identify the gene implicated in mesothelioma. In 2001, he published in "The Lancet" that predisposition to developing mesothelioma was transmitted as an in an autosomal dominant character in certain Turkish families. Subsequently he led a research team including Drs. Giovanni Gaudino, Joseph Testa, Harvey Pass and Haining Yang that by studying US families with high incidence of mesothelioma, discovered the "BAP1 cancer syndrome" which Carbone and collaborators found to be caused by germline mutations of the BAP1 gene and that is characterized clinically by a very high risk of developing mesothelioma, melanoma, and other cancers (Testa et al., Nature Genetics 2011; Carbone et al., JTM 2012 and Nature Rev Cancer 2013).
Dr. Carbone is known in his field as a generous mentor, and has helped several prolific scientists enter the field of mesothelioma research. Dr. Haining Yang, is one researcher whose work with Dr. Carbone resulted in a peer-reviewed grant award of $100,000 from the Mesothelioma Applied Research Foundation which helped her to develop the data that allowed her two years later to win her NCI-RO1 and DOD grants to study mesothelioma.
"I have worked closely with Dr. Carbone over the years and have been impressed by his kindness and availability," said Mary Hesdorffer, NP, Meso Foundation's executive director. "He has been a leader in the field of mesothelioma research, and every one of his many contributions brings us that many steps closer to life-saving treatments for mesothelioma patients."
The Pioneer Award honors individuals "pioneering" scientific advances in the field of mesothelioma, with the goal of eradicating the life-ending and vicious effects of mesothelioma. The award will be presented during the Awards Dinner, at the International Symposium on Malignant Mesothelioma in Alexandria, VA, on March 5-7.
Mesothelioma is a malignant tumor of the lining of the lung, abdomen, or heart known to be caused by exposure to asbestos. Medical experts consider it one of the most aggressive and deadly of all cancers. Approximately 3,500 Americans are diagnosed with mesothelioma every year and an estimated one-third were exposed while serving in the Navy or working in Navy shipyards.
ABOUT THE MESOTHELIOMA APPLIED RESEARCH FOUNDATION
The Meso Foundation is the only 501(c)3 non-profit organization dedicated to eradicating mesothelioma and easing the suffering caused by it. The Meso Foundation actively seeks philanthropic support to fund peer-reviewed mesothelioma research; provide patient support services and education; and advocate Congress for increased federal funding for mesothelioma research. The Meso Foundation is the only non-government funder of peer reviewed scientific research to establish more effective treatments for mesothelioma and, ultimately, a cure for this extremely aggressive cancer. To date, the Foundation has awarded over $8.2 million to research. More information is available at http://www.curemeso.org.
###