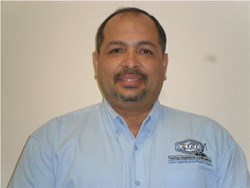 Accident statistics for Spanish-speaking workers in the construction industry are often higher than the work population at large. Alverio is reaching an at-risk demographic with important safety instruction
Orlando, FL and Houston, TX (PRWEB) January 31, 2014
Out of 22 nominated, Angelo Alverio, a very successful bi-lingual instructor and inspector employed by Crane Inspection & Certification Bureau (CICB), has recently received the Professional Top Trainer 2013 Award sponsored by the Association of Crane & Rigging Professionals (ACRP) and the Crane and Rigging Hotline Magazine. Nominees are judged by use of innovative classroom or hands-on instruction, encouraging peer or corporate accountability, evidence that the training was successful, and the overall impact on the students, environment or industry. In addition to other prizes, Mr. Alverio was also awarded a continuing education scholarship. CICB instructors have also received Top Trainer Awards in 2009, 2011 and 2012.
"Organizations are linking learning to performance and the bottom line, understanding that a highly skilled, knowledgeable workforce is critical to achieving growth and success," said Jerry Longtin, a 2009 Top Trainer and General Manager of CICB. "All of our professionally trained instructors and subject matter experts are not only NCCCO Certified as Mobile, Overhead & Articulating Crane Operators, but are also NCCCO Certified Riggers, Signalpersons, and Crane Inspectors. At CICB we understand and follow the Learning Pyramid, where 75% to 90% of students learn more by participating in hands-on training."
CICB's state of the art facilities in Orlando, FL and Houston, TX offer modern classrooms and designated practical areas to provide the trainee with hands-on and visual learning. All of CICB's hands-on training is provided on actual cranes and rigging gear, not simulators. CICB also offers training on-site at your facility or at more than 30 locations across the United States on crane safety and operations, rigging, and inspections.
CICB was among the first crane training providers to embrace NCCCO Crane Operator Certification Programs, and has a 14 year history of providing preparatory classes for those seeking their NCCCO Certifications.
For more information, visit http://www.cicb.com