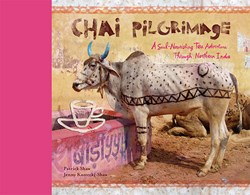 We hope to offer readers a soul-nourishing vision of human connectedness and an opportunity to sip chai on the other side of the world.
Taos, New Mexico (PRWEB) January 30, 2014
Award-winning book author/illustrator Jenny Kostecki-Shaw and her chai wallah husband, Patrick Shaw, who teaches Ayurveda at the University of New Mexico in Taos, have published Chai Pilgrimage, a chronicle of their four-month backpacking journey through India in search of the quintessential cup of spiced black tea.
Chai Pilgrimage, the couple's first collaborative book, is a photo journal, artist's sketchbook, recipe box and encyclopedia combined. Its rich and colorful pages recreate the couple's experience of India, from the sensual pleasures of tea to the time-honored rituals of friendship and hospitality.
"We realized that roadside chai stands were the universal meeting place for India's diverse people, where the divisions of caste and religion no longer mattered," says Shaw. "We wanted to combine street-level experiences and stories with our own backgrounds in Ayurveda, Eastern spirituality, art, photography, and 20 years of chai-making to create a visual journey that people could return to many times."
Chai Pilgrimage makes it simple to brew a healthy cup of masala chai. Illustrated recipes are provided for such variations as Chai Guru Chai, Darjeeling Ginger Chai and Children's Chai, as well as treats like Yogi Chai Biscuits and Super Spicy Ginger Snaps. A comprehensive illustrated guide to the healing benefits of traditional chai spices is included.
As the duo travels across India sampling chai, they also drink in the culture's pervasively spiritual way of life. Chai Pilgrimage explores related topics like Fair Trade tea farming in Darjeeling and the world's largest spice market in Old Delhi, then takes readers to some of India's most sacred places. Along the Ganges River, in the midst of centuries-old temples, the book illuminates the cultural significance of holy cows, the Namaste greeting, and the pantheon of Hindu deities. It even delves into the spiritual aspects of chai-making, with chapters on The Yoga of Chai and Chaiyurveda – chai-making from an Ayurvedic perspective.
In the same way that diverse spices make a delicious cup of chai, the wide-ranging topics, whimsical illustrations and striking photography of Chai Pilgrimage blend to create an inspiring sensory journey. Shaw says, "We hope to offer readers a soul-nourishing vision of human connectedness and an opportunity to sip chai on the other side of the world."
Chai Pilgrimage is available through chaipilgrimage.com and amazon.com.
About Chai Pilgrimage
Chai Pilgrimage is a sourcebook for preparing delicious and nourishing masala chai, and brings India's chai culture to Western tea lovers and tea newbies alike. It is a gift book for chai drinkers, travelers, yoga practitioners, foodies and anyone enchanted by India's wonder. For those who enjoy the book and want more chai experiences, a companion website http://chaipilgrimage.com offers more information, art prints, and a forum for chai-making advice: "Ask a Chai Wallah."
About the creators:
Jenny Kostecki-Shaw is an author and illustrator of children's books, including My Travelin' Eye and Same, Same but Different, winner of the 2012 Ezra Jack Keats New Illustrator Award and New Author Honor, the 2012 South Asian Book Award and the 2012 Frostburg State University Children's Literature Centre Award. Jenny also illustrated "The Mother's Wisdom Deck, A 52-Card Oracle Deck with Guidebook," written by Niki Dewart and Elizabeth Marglin.
Patrick Shaw has devoted his life to making the healing wisdom of the East accessible to Western culture. He is a seasoned India traveler, chai wallah, and practitioner of Ayurveda, having studied under Dr. Vasant Lad at the Ayurvedic Institute in New Mexico. Patrick has been making masala chai for more than 20 years and has taught many others along the way. He currently teaches Ayurveda and Ayurvedic cooking at the University of New Mexico in Taos.
Jenny and Patrick live outside Taos.
Media contact:
Patrick Shaw
chaipilgrimage(at)gmail(dot)com
http://chaipilgrimage.com
office (575) 586-1726
mobile (575) 770-5020
Chai Pilgrimage: A Soul-Nourishing Tea Adventure through Northern India
By Patrick Shaw and Jenny Kostecki-Shaw
$45.00 at ChaiPilgrimage.com and amazon.com
Dancing Elephant Press; first edition (2014)
Hardcover, 192 pages, 11" x 8 1/4"
ISBN: 978-0-615-90188-6