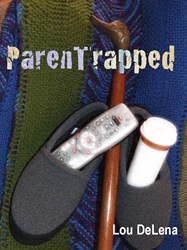 Of course you love your parents--but they're driving you crazy!
Pasadena, CA (PRWEB) January 30, 2014
They're overly demanding, inpatient, unreasonable, self-centered and selfish, and expect everyone to drop everything for them at a moment's notice. And they act so juvenile!
No, not the kids. This dissertation deals with the older generation - AKA Mommy and Daddy. As they enter their golden years and can't get around like they used to, they often turn to their grown children for help – lots of help.
For anyone feeling caught between a rock and a hard place, it's time to turn to "ParenTapped – A Guide for the Sandwiched Generation," by Bitingduck Press/Boson Books non-fiction author Lou De Lena. This e-book takes a heartfelt and humorous look into the world of parental caregiving. It provides some insight into what can be a trying situation--that is, dealing with elderly parents and their needs on a regular basis--coupled with valuable information regarding services for both seniors and caregivers. Interactive links allow the reader to switch rapidly from the text to on-line resources.
It is based primarily on the author's and others' personal experiences in dealing with aging parents. The author, Lou DeLena, has previously published a nonfiction guide to domestic chores for the domestically challenged. Mopping Tall – The Hubby's Guide to Housework and Other Dangerous Jobs was released by Boson Books in 2003. Lou is a native of Medford, MA and holds a Bachelor of Science degree from Suffolk University. He has worked as a radio announcer, technical writer and cemetery laborer, and is currently employed as a Procurement Coordinator for the Commonwealth of Massachusetts.
"ParenTrapped" is currently available for pre-release review on NetGalley, or upon request from the publisher's website. Boson Books was the first electronic publisher on the Net, featuring an eclectic catalog of fiction, non-fiction, and scholarly books since 1994. Boson was acquired in 2012 by Bitingduck Press, an independent Los Angeles-area publisher specializing in books by, for, and about scientists. Bitingduck Press will be present at several upcoming literary shows, including the LA Times Festival of Books and Book Expo America, where print galleys of all of 2014's upcoming titles will be available. For more information, including submissions guidelines for fiction and non-fiction, please visit the press's website.