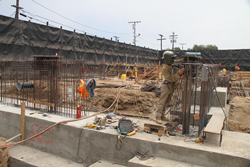 "The construction industry is starting to see the importance of utilizing Acoustifence sound barriers on large-scale construction projects where construction noise is a concern," Lahnie Johnson, President & Founder of Acoustiblok Inc, said.
Tampa, FL (PRWEB) February 03, 2014
Revised 2/27/14-Acoustifence is gaining recognition as an effective sound barrier for mitigating construction noise in communities where large construction projects are taking place. Currently, two large scale construction projects in the Los Angeles/Santa Monica areas are utilizing Acoustifence to minimize construction noise.
With much new development going on in the Los Angeles and Santa Monica areas, often times neighbors can feel like they are being encroached upon by the effects of new construction activity and construction related noise. Acoustiblok, Inc.'s sound barrier product, Acoustifence, is now helping even more Santa Monica residents cope with construction noise at two large sites.
Since 2011, an Acoustifence construction fence has been successfully utilized at the $55 million Santa Monica High School Science and Technology Building Project. Get a detailed news article about this project.
In addition, Acoustifence is also being utilized in the construction of the Expo Phase 2 Operations and Maintenance Facility complex, which is part of the $1.5 billion 6.6 mile extension of the Expo Light Rail Line from the existing terminus at Culver City. The site is located at Stewart Street and Exposition Boulevard in the City of Santa Monica.Phase 2 of the Metro Rail Corridor project.
Santa Monica is a densely populated area where multi-family and single-family homes are located adjacent to the property. The neighbors, which include the residential plus some sensitive commercial tenants, face the two short sides and one long side of the rectangular piece of property.
The O&M Facility contractor installed a standard 8-foot high chain link construction fence on project's three sides where neighbors reside. The company then wrapped 1,000 linear feet of Acoustifence sound barrier onto the chain link fence.
Acoustifence is a modern day acoustical soundproofing product developed by Tampa, Florida-based Acoustiblok, Inc. It is being recognized more and more as a way to mitigate construction noise at large-scale construction projects.
"Acoustifence is a unique 1/8th inch, 6' x 30' (3mm x 1.83m x 9.14m) heavy mineral filled, barium free viscoelastic acoustical material. It's an advanced material sound barrier that is placed between a noise source and the noise receiver, "said Marilyn Myers, Acoustiblok's Chief Operating Officer who worked with the consulted on the sale of the Acoustifence material.
The material easily attaches to chain link fences and comes in large sections and in custom made sizes, making it ideal for construction fence applications that require a soundproofing element at the construction site. Acoustifence is extremely strong and was engineered to withstand harsh outdoor environments like construction sites and highway environments. Full exposure to dirt, grease, oil, mold or even being driven over is not a problem for the Acoustifence.
"The contractor needed the material fast and we were able to get it to them immediately. They were able to install it quickly and were pleased with the results," Myers said.
"The contractor wrapped as much Acoustifence as they could on the chain link fence. This creates an effective noise barrier and helps keep the construction noise levels down as best as possible given that the area is not completely enclosed.
In addition to being a sound barrier, Acoustifence's opacity and black color also provides a visual separation for the construction project and the neighbors. It can also help reduce the amount of dust that would otherwise blow through a chain link construction fence.
"When performing a large-scale construction project in certain areas of the United States, there are local noise and vibration ordinances that they have to adhere to. While construction contractors are not required to put up an acoustical construction fence unless they exceed the allowable limits, often times they make the decision to install one before work commences to keep noise at a minimum to the surrounding residential and business neighbors. They want them to have the best experience possible during the construction work," said Lahnie Johnson, President & Founder of Acoustiblok Inc.
"The construction industry is starting to see the importance of utilizing Acoustifence sound barriers on large-scale construction projects where construction noise is a concern, " he said.
About Acoustiblok
Acoustiblok Corporation, a NASA Spin-off listed company headquartered in Tampa, FL, provides acoustical soundproofing solutions for noise related issues. The company develops, manufactures, and markets acoustical products around the world, earning the industry's highest ratings from architects, builders, and consumers.
Primary products include Acoustiblok® viscoelastic polymer based soundproofing material, Acoustifence® outdoor noise barrier, All Weather Sound Panels®, QuietFiber® insulating material, Quiet-Cloud® industrial sound absorption panels, Acoustiblok WALLCOVER®, and Thermablok® aerogel nanotechnology insulation. Acoustiblok products are used in industrial, residential, commercial, and marine sectors worldwide. The company's products are made and sourced in the United States.
Acoustiblok Inc., ships products to approximately 60 countries through a network of stocking distributors in the United States and on five continents across the globe. The company operates a subsidiary, Acoustiblok Mideast, in Saudi Arabia to augment their distributor network.