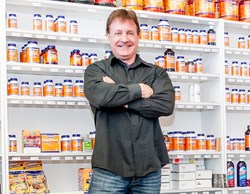 Ricky Hayes says, We incorporated EZ Coach and exceeded our members expectation for the dues they are paying. In other words, we gave them what they wanted and that keeps them in our clubs.
Manchester, New Hampshire (PRWEB) January 31, 2014
Rocco Boulay, CEO of Integrity Health Coaching Solutions in New Hampshire has released a news blog telling the story of how he created the Integrity Health Coaching model and the hurdles along the way. In the article he describes the fitness industry at the time he opened his first location and how he and his team overcame the low price stigma put on the fitness industry.
He also discusses the options many fitness club owners took when the industry first introduced the 10 per month dues, and the challenges many operators face today. Many followed suit and emulated the $10 per month paradigm while others adopted a high level service mentality to add value to their existing models.
Rocco speaks about his own service technology model called the EZ Coach Fitness Prescription System he spearheaded in his facilities and how it is now being utilized in fitness centers across the nation. The EZ Coach System is a technology that designs a complete 8-week fitness prescription for a health club member in about 30 minutes that aids the member in getting fit and increases engagement. This system is adaptable for installation in any fitness facility regardless of the facility's equipment.
Rick Hayes, owner and operator of five 24-hour fitness facilities in Central Florida says; "It wasn't reasonable for us to compete with low price. We knew people were tired of getting nothing at the low priced clubs. Over a year ago we incorporated EZ Coach and exceeded our members expectations for the dues they pay. In other words, we give them what they want and that keeps them in our clubs.
Rocco goes on to say that he believes there is a great opportunity to provide many more people what they need especially during a time when we are in one of the most critical health care crisis' our nation and the world has ever experienced. We asked him what the vision of his company Integrity Health was and he without hesitation he said; "To make the world a healthier place".
To read the full article click Integrity Health Coaching website link below.