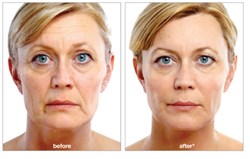 Safety is as important as results, and I always try to give more value for the money my patients spend
Boston, MA (PRWEB) January 31, 2014
The name of Visage Sculpture clinic is synonymous with non-surgical shaping of the face. A lot of people are not ready for surgery, both emotionally and financially, and prefer minimally invasive restoration of youth. Masha Banar, Board Certified Physician Associate and Director of Visage Sculpture, works only with the best FDA approved products on the market. "Safety is as important as results, and I always try to give more value for the money my patients spend," Banar says, "which are the reasons new product Voluma XC fits my Practice". Voluma is new generation of Hyaluronic Acid based fillers, similar to Juvederm, but more long lasting (results can last up to 18 months according to clinical studies).
Full cheeks are a key marker of youth. Age-related volume loss can cause the face to lose definition, balance and change shape, all of which can make a person appear older than their years.
People age differently: their skin may deflate (lose fullness or volume), descend (droop or sag) or both. However, few people realize the mid-face is one of the first areas to show the signs of aging – as we lose facial volume, cheeks deflate and descend.
Addressing the need is JUVÉDERM® VOLUMA™, the newest facial filler available in the JUVÉDERM® family of hyaluronic acid fillers. The first of its kind, JUVÉDERM® VOLUMA™ is a hyaluronic acid facial filler specifically made to restore age-related volume loss in the mid-face (the cheeks, cheekbones and around the chin). JUVÉDERM® VOLUMA™ uses hyaluronic acid, a sugar that occurs naturally in your skin, to instantly restore lost facial volume in the cheeks and contour the chin. JUVÉDERM® VOLUMA™ also combines with collagen and elastin to improve skin structure and elasticity, and create a smooth natural look. The results are instant, natural looking and can last up to 18 months. Plus there's no downtime – most people resume normal activities immediately (official Voluma site).
About Visage Sculpture
Visage Sculpture is premier Cosmetic Center dedicated to helping people look and feel more attractive, refreshed, and youthful in the most natural gentle way. Founded by Masha Banar, Board Certified Physician Associate, with more than a decade of experience in Plastic and Reconstructive Surgery, it has been featured on ABC News for its unique alternatives to surgical procedures.
Masha is a National Educator for Sculptra Aesthetic and teaches facial anatomy and injection techniques to Physicians and Nurses. Her extensive experience combined with artistic background and intuitive appreciation of proportions of the face brings ease to all procedures offered.
Complimentary consultation can be scheduled by calling at (617)795-0201 or via e-mail. Office is located at 31 Channing Street, Newton Corner, MA 02458.