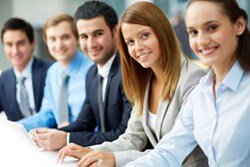 Our Washington, D.C. review center is designed specifically to support large regulatory reviews with short notice and tight deadlines.
Mountain View, CA (PRWEB) February 18, 2014
Advanced Discovery, a leading eDiscovery and document review solutions provider, is proud to have successfully provided document collection, processing, hosting, review and production services for a large-scale and high-stakes second request antitrust investigation pertaining to a telecommunications merger. Advanced Discovery staffed the intensive project while working seamlessly with outside counsel law firms to complete the project well before the deadline.
"Our clients rely on us to provide the infrastructure and to coordinate the logistics that allow them to scale up for large projects in a secure and defensible manner," says John Sanchez, executive vice president, Document Review. "This project was no exception. Our Washington, D.C. review center is designed specifically to support large regulatory reviews with short notice and tight deadlines. Our D.C. team is highly experienced to support our clients, from staffing projects to managing review teams and facility operations."
Working under a tight staffing and production deadline, Advanced Discovery immediately began collection and processing of the documents to be reviewed, and quickly staffed the project with an initial 75-member high-quality review team, who worked seamlessly in conjunction with two separate outside counsel law firms engaged by the client, to take on the voluminous review project.
Due to the sheer volume of documents involved in second request matters, Advanced Discovery was asked to quickly put together another 25 attorneys to meet the stringent production demand. As a unified team, the nearly 100 reviewers worked deftly and deliberately to timely review the documents at issue and meet the aggressive document production deadline.
Following Advanced Discovery's successful production of documents at the conclusion of the two-month review, an additional quick-turnaround production deadline required immediately bringing back 40 of the review attorneys. The additional review team worked seven straight days, often working 12 or more hours per day, to ensure that all deadlines were met on or ahead of time, to the extreme satisfaction of both the client and the outside counsel.
Designed to host multiple review matters and teams, each Advanced Discovery review center features several review rooms and security protocols and dual screen monitors, ergonomic chairs and fully equipped common area space.
Advanced Discovery focuses on helping clients reduce e-discovery costs by managing the most costly part of the process: review. With locations in Los Angeles, San Jose, San Francisco, Orange County, Century City (California), Dallas, Austin (Texas), Chicago, Overland Park (Kansas), Washington D.C. and New York City, Advanced Discovery has the ability to set up a review center anywhere in the nation within 48 hours.
ABOUT ADVANCED DISCOVERY:
Advanced Discovery is a leading provider of eDiscovery services to clients worldwide in both the legal and corporate communities. Our services include computer forensics, electronic discovery, early case assessment, web hosting, document review, and paper discovery. Advanced Discovery offers technology solutions that assist law firms and corporations to quickly and accurately reduce vast amounts of electronically stored information into essential and searchable data sets, effectively providing a high-value product at a low comparative cost. Headquartered in Mountain View, California, Advanced Discovery maintains 11 facilities across the continental U.S. More information is available at http://www.advanceddiscovery.com
For more information contact:
Glenda Hoffman
marketing(at)advanceddiscovery(dot)com
866-342-3282