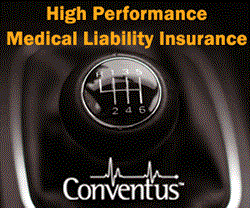 GROUP PROTECT offers medical practices medical liability coverage fully customized to their operations and their business challenges.
Woodbridge, NJ (PRWEB) February 03, 2014
At a breakfast meeting of preferred insurance brokers here this morning, Conventus officially announced the launch of GROUP PROTECT, a product aimed at making policy administration easier and more economical while providing highly personalized service and supporting patient safety and practice management improvements efforts. Conventus GROUP PROTECT customizes coverage based on the specific needs of each medical group and includes not only ownership-control, but also open access to the full suite of practice management intelligence services for which Conventus is widely recognized.
Key features to Conventus GROUP PROTECT include:

Improvement of practice cash flow through competitive rates and eligibility for Conventus Owner Benefit Plan dividends.
Customized premium installment payment options with no interest.
Limits available from $1 million per claim/$3 million annual aggregate to $5 million per claim/$7 million annual aggregate.
Deductibles ranging from $25,000 to $150,000.
Policy customization that adapts to complex risks and multi-state practices (directly or through affiliates).
Advanced Practice Management Intelligence Services including:
o Clinically-based CME
o C.A.R.E. Certification/Staff education programs
o Assistance with RAC audits, HIPAA, HITECH and EHR compliance
o The new NJ STAT e-newsletter co-sponsored with top law and accounting firms that provides quick reads on vital patient safety, legislative, and financial management news
o 24/7 Patient Safety Hotline

Immediate access to senior level management
In-house attorney advice before, during, and after claims
Broker marketing support program
Conventus GROUP PROTECT was developed in answer to the increased consolidation of physician practices in New Jersey, as well as to an increase in physician movement that makes managing medical liability policies more challenging for both group administrators and brokers.
ABOUT CONVENTUS
Unlike most firms offering professional medical liability insurance in New Jersey, Conventus is owned and fully governed by its membership of medical practices and physicians. In addition to at-cost coverage, Conventus supports members with a full range of professional claims management, patient safety, and information services that allow them to spend less energy managing risk and more practicing good medicine.
Conventus (http://www.conventusnj.com) is rated A' (A Prime) unsurpassed by Demotech, a national insurance rating firm.