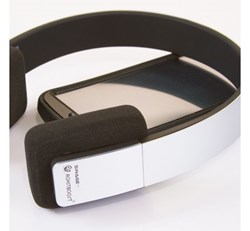 Amazon customers love these stylish, functional bluetooth headphones.
New York, NY (PRWEB) February 11, 2014
Rokit Boost specializes in high-end accessories that help users better enjoy all their mobile devices have to offer. In addition to their iPhone cases that more than double battery life, the company offers a variety of innovative Bluetooth accessories, including iPad keyboards, speakers, headsets, and headphones. Across the board, RokitBoost's customers love their sleek, state-of-the-art Swage headphones.
These Bluetooth headphones are completely wireless, and connect to a wide array of Apple and Android electronics so that everyone can enjoy their perfect fit and clear sound quality. The convenient side buttons, built in-microphone, and 8-hour battery life make customers' lives easier, so that they can make phone calls while cooking dinner or listen to their favorite music at the coffee shop. Swage headphones come in two fashionable styles, both black and white. Customers get all of these excellent features at a very affordable price; Swage headphones cost just $49.99.
Given their excellent design and many features, it comes as no surprise that Swage headphones have a 4.5/5 star rating on Amazon.com. This statistic is even more impressive given that the product has been reviewed over 250 times. Many Amazon customers are buying – and loving – Swage headphones. One user writes: "The RokitBoost Bluetooth Headphones are the best headphones that I have ever used" due to their "superb sound quality, excellent design, and fantastic functionalities" while another calls them "a must have product."
Due to their popularity, RokitBoost recently released their Swage 2 Bluetooth Headphones, which have even more advanced functionality and elegant design, with comfortable leather ear cushions.
About RokitBoost
Their Swage headphones exemplify RokitBoost's dedication to providing deluxe mobile accessories at a great value. As the positive Amazon reviews illustrate, the company's customers are extremely satisfied with their products. In order to provide exemplary customer service, RokitBoost also ships free within the United States, provides a one-year warranty, and has a 30-day money-back guarantee for all of their accessories.
Purchase your pair of Swage headphones or learn more about RokitBoost at http://RokitBoost.com.