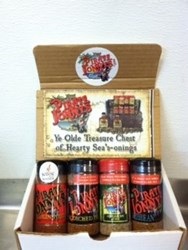 Enjoy that "special Valentine's evening" and many other evenings of gourmet dining right at home with Pirate Jonny's Caribbean rubs, seasonings & Sauces.
Clearwater, FL (PRWEB) February 07, 2014
Valentine's Day is often connected with candy, flowers and dining reservations. Pirate Jonny's offers a different kind of purchase for consumers to have their own gourmet meals made with the special seasoning blends that are easy to create and easy to purchase via online or at select Ace Hardware store locations. The consumer can have that "special night" and many other evenings of gourmet dining right at home with these products which are low sodium and have no MSG or Gluten. Gift sets are available at select Ace Hardware locations which are listed on Pirate Jonny's website.
The interesting aspect of these gift sets is that the consumer will receive a variety of rubs and seasonings to include the Sweet Island and Caribbean BBQ rubs and the Jamaican Jerk and Cajun Pirate Seasonings. Three of the four flavors have been submitted for various contests of which all three have won awards from the National BBQ Association (Caribbean, Jamaican Jerk) and Scovie Awards (Cajun Pirate).
The Sauce Gift set includes 4 different flavors which compliment the rubs and seasonings. The sauces are the Sweet Island, Caribbean, Garlic Island (Scovie Award Winner) and the newest Guava Girl.
Consumers can purchase these gift sets at Ace Hardware locations at Dunedin, Florida, and Odessa, Florida. Pirate Jonny's other product selections can also be seen at Jensen Beach, Florida, Cape Coral, Florida and Stuart, Florida among many other retail locations listed on Pirate Jonny's website.
Happy Valentine's from Pirate Jonny's Caribbean BBQ Rubs, Seasonings & Sauces.