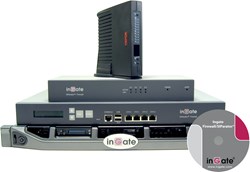 Demand for SIP trunks is growing at a record pace.
Stockholm (PRWEB) February 03, 2014
Ingate® Systems announces that the Ingate SIParator® Enterprise Session Border Controller (E-SBC) with SIP trunking and Remote SIP Connectivity software modules is now validated for interoperability with the Interactive Intelligence all-in-one IP communications software suite, Customer Interaction Center™ (CIC).
Ingate is a developer of secure E-SBCs and firewalls that enable the best of SIP- and WebRTC-based quality multimedia real-time communication and SIP trunking globally beyond the protected enterprise network.
Ingate SIParators enable secure, reliable SIP trunk deployments. They pave the way for a fast, simplified installation by resolving interoperability issues between the myriad of IP-PBXs and SIP trunk services on the market, streamlining deployments with solutions that allow SIP trunk installations to become "plug-and-play." Additionally, Ingate's advanced security features provide enterprise-class security for SIP trunk traffic.
A pioneer in SIP security since 2001, Ingate offers solutions that have been proven in call center deployments. For resellers, the Ingate advantage means streamlined, simplified installations that can be done quickly, at a competitive price.
"Demand for SIP trunks is growing at a record pace. With this validation, Interactive Intelligence resellers can offer SIP trunking solutions that are fully tested with CIC, a tremendous value-add for their customers," said Ingate Systems President Steven Johnson.
Interactive Intelligence first released CIC in 1997 to eliminate the cost and complexity introduced by multipoint products. CIC, which can be deployed in the cloud or on-premises, offers contact center, unified communications, and business process automation functionality designed to improve the customer experience.
About Ingate® Systems
Ingate® Systems develops firewall technology to enable global SIP- and WebRTC-based person-to-person communication such as IP telephony, presence, Instant Messaging, video conferencing, IP-PBX connections and Unified Communications. With a history in security, Ingate offers enterprises, service providers and carriers elegant solutions that make trusted real-time communications possible beyond the LAN. Ingate products are used by retail companies, financial institutions, industrial firms, government agencies and small-to-large enterprises throughout Europe, Asia and North America. For more information, visit http://www.ingate.com.
# # #