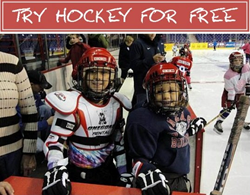 Laurel, MD (PRWEB) February 04, 2014
The Gardens Ice House invites boys and girls ages four to nine years old to The Gardens Ice House on Saturday, March 1 from 10AM – 12PM for a Try Hockey for Free clinic to experience ice hockey for the first time and learn the basics of the sport in a fun, safe environment.
The Try Hockey for Free clinic is part of USA Hockey's seventh annual Hockey Weekend Across America celebration, which runs nationwide Feb. 28- March 2. This program, designed to provide youth hockey associations a national platform to introduce new kids to the sport, is a joint‐effort between USA Hockey, the National Hockey League, and NHL member clubs. With Total Hockey and Liberty Mutual Responsible Sports, the official sponsors of Try Hockey For Free Day, USA Hockey has close to 500 locations offering kids between the ages of 4 and 9 years old this unique opportunity.
"We look forward to introducing new families to our sport," said Coach Tom Hendrix, Vice President and General Manager of The Gardens Ice House. "To help keep costs reasonable for parents, we've incorporated programs to provide first-year players with equipment for the season."
To register for one of the 500 Try Hockey for Free opportunities, please visit http://www.TryHockeyForFree.com or contact Courtney Moon at 443-812-1782.
####
About Hockey Weekend Across America
The seventh annual Hockey Weekend Across America, presented by CCM, is a three-day celebration of the sport of hockey at every level. Each day of the weekend has a theme, including Wear Your Favorite Hockey Jersey, sponsored by ShopUSAHockey.com on Friday, Feb. 28; Try Hockey Day, sponsored by the NHL, on Saturday, March 1, including 500 locations hosting Try Hockey for Free clinics; and Celebrate Local Hockey Heroes, on Sunday, March 2. In addition on Sunday, NBC's Hockey Day in America coverage, which includes an NHL matinee game featuring Philadelphia at Washington on NBC and broadcasting of an evening game between Boston and the New York Rangers on NBC Sports Network. Along with its game coverage, NBC will also produce content in and around the games showcasing hockey at all levels in the United States. For more information on Hockey Weekend Across America, visit http://www.HockeyWeekendAcrossAmerica.com.