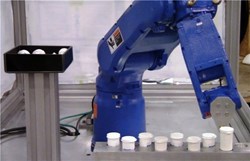 The interactive intelligence of Neocortex provides unprecedented flexibility for Doerfer's dynamic automated medical assembly
Nashville, Tennessee (PRWEB) February 05, 2014
The Doerfer Companies announces a partnership with Universal Robotics of Nashville, Tennessee, to integrate Universal's intelligence and 3D software platforms with Doerfer's custom automation solutions for flexible piece part feeding to industrial automation assembly platforms. For the medical device industry, this technological breakthrough enables automated assembly platforms to receive raw materials without the need for traditional feeding hardware such as vibratory, centrifugal or tray feeders.
Universal Robotics supports this solution through its signature technology, Neocortex®, which is a new form of artificial intelligence that uses sensor information to learn. It was co-developed over seven years by NASA and Vanderbilt University, and was funded by U.S. Department of Defense. Neocortex discovers patterns in chaotic environments that are relevant to an assigned task. From this, it provides operational insight or enables flexible machine control to perform tasks that are unsafe or difficult for humans.
Because Neocortex's learning requires observation and interaction with the physical world, Universal created an accurate 3D vision guidance software product called Spatial Vision® Robotics that provides Neocortex with information about its surroundings using off-the-shelf 3D sensors.
An active demonstration of this partnership will be offered at MD&M West 2014, held February 11-13, 2014 at the Anaheim Convention Center in Anaheim, CA. The demonstration will use a Motoman MH5SM 6-axis robotic arm to show the ability to locate medical device piece parts completely at random, pick those parts and subsequently place to a tooled nest on an assembly platform. Visit us at Booth # 4247.
About Doerfer Companies
Doerfer Companies designs, manufactures, and integrates factory automation systems for the unique process and product manufacturing needs of the healthcare industry, as well as automotive, aerospace/defense, consumer, and nuclear industries. Doerfer's 600+ person team creates manufacturing solutions by leveraging significant experience in assembly, packaging, controls, testing, and inspection systems. Visit http://www.doerfer.com
About Universal Robotics
Universal Robotics, a software engineering company, creates state-of-the-art machine intelligence with multi-dimensional sensing and motion control to expand the reach of automation for a host of applications, making machines more flexible and providing learning from big data. Visit http://www.universalrobotics.com.