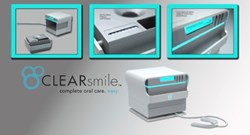 Atlanta, GA (PRWEB) February 06, 2014
CLEARsmile is a new oral hygiene device, developed by Dr. Igor Reizenson, that was invented to replace the toothbrush, toothpaste, floss, mouth rinse and tooth whitening systems. When Dr. Reizenson started working with groups of clients with dexterity problems during his career, he began to imagine his ideal oral hygiene device. Today, Dr. Reizenson is pleased to announce a new website for the project, at http://clearsmileonline.com.
Along with the new web site, a crowd-funding Indiegogo project that has been announced that will begin on July 14, 2014. The project, if successfully funded, will be used to fund the prototype and creation of the device. The backer rewards will be announced at the time of the project's debut date on Indiegogo, so be sure to follow CLEARsmile on Facebook to receive future updates and keep informed on the device's progress.
The CLEARsmile device uses pressure washing and specially developed micro-bubble technology to clean the teeth and gums at every angle simultaneously. It uses a mouth piece and micro-bubble tablets to blast and dissolve bad dental bacteria easily from every nook and cranny. First, the appropriate-sized mouthpiece is placed in the mouth, the desired pressure is set on the device, and the solution is pumped through the tube out of out hundreds of tiny orifices in the mouth piece. The device is on a timed cycle so that the right amount of solution is used depending on the size of the mouth piece.
In addition to its current capabilities, Dr. Reizenson stresses that in the future, potential add-on features could be developed for the device to expand the use of CLEARsmile even further, perhaps into the biomedical field.
"CLEARsmile has the potential to improve the quality of life for millions of people. The initial target markets for the device are the people who suffer an increased percentage of dexterity problems – young children and the dependent elderly. We also want to help teens or others who wear braces because of the nature of this device," said Dr. Reizenson. "I identified the need for a device like this years ago while working in a residency program at the Veterans Hospital of Western New York, and that is when the idea for CLEARsmile was born."
For more information about CLEARsmile, please visit http://clearsmileonline.com.
About Dr. Igor Reizenson:
In 2001, Dr. Reizenson received his DDS (Doctor of Dental Surgery) from the State University of New York at Buffalo School of Dental Medicine. He then advanced to the prestigious General Practice Residency Program at Veterans Hospital of Western New York. In 2007 Dr. Reizenson was recognized by the History Channel's "Modern Marvels" as one of America's top 25 inventors of the year for a patented oral hygiene device called ClearSmile. He is the founder and CEO of ClearSmile LLC. Dr. Reizenson is a long standing member of the American Dental Association, as well as the Georgia Dental Association.