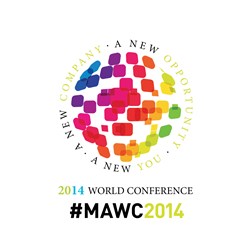 Miami, FL (PRWEB) February 04, 2014
A new company. A new opportunity. A new you. That is the message Market America | SHOP.COM will deliver to more than 20,000 eager entrepreneurs at its upcoming 2014 World Conference here in Miami next week.
This year's event, to be held February 6-8 at the American Airlines Arena in downtown Miami, will showcase the latest developments in
Market America | SHOP.COM's high-tech, high-touch approach to retailing, which has made the company a leading player in the global e-retailing sector, as evidenced by its inclusion on Internet Retailer Magazine's Top 500 Guide, coming in on the list at number 57.
"There is nothing more exciting than a Market America | SHOP.COM event. The energy in the building is nothing short of fantastic, from our executive team members to our independent business owners to the young aspiring entrepreneurs who are just setting out on their journey to financial independence," said President and Chief Executive Officer JR Ridinger. "It's that energy that had helped this company rise to the top of the Internet retailing sector and has made our independent business owners some of the most successful entrepreneurs in the world."
This year's event promises to be no different, featuring members of the Market America Executive Team, many of the company's most thriving businesspersons and celebrity guests. Previous Market America events have been attended by the likes of Alicia Keys, Jennifer Lopez, Serena Williams, Alejandro Sanz, Khloe Kardashian, Gloria and Emilio Estefan, Tony Romo, Swizz Beatz, Paulina Rubio, and Marc Anthony, among many others.
All-star Carmelo Anthony is scheduled to appear via satellite to discuss his advanced health supplement Isotonix® Champion Blend Plus, a top seller within Market America's portfolio of products. Television star La La Anthony and basketball Hall of Famer Scottie Pippen will be on hand to talk about their respective Market America-branded products, Motives for La La and Prime Joint Support Formula by Isotonix.
This year, grammy nominated rap artist, entertainment maverick and successful entrepreneur Joseph "Fat Joe" Cartagena will take the stage to describe his vision of Market America | SHOP.COM as the "Invisible Train" transporting those who are ready to places once reserved for only the privileged few.
"I feel like I'm definitely an entrepreneur first and foremost, and it's time to take that to another level," said Cartagena. "I can now teach anyone, who is willing to grind it out, how to build the kind of lifestyle few ever get a chance to experience."
In addition, Market America|SHOP.COM 2014 World Conference will feature numerous new product launches from its wide assortment of health & nutrition and beauty and personal care brands.
Paparazzo, the Spring/Summer 2014 makeup collection from the award-winning Motives by Loren Ridinger cosmetic line created by Market America|SHOP.COM Senior Vice President Loren Ridinger, will be unveiled. Setting the hottest color trends for the season, Paparazzo Collezione, in addition to line expansions for both the Motives and Motives for La La brands, will be available immediately following their unveiling on SHOP.COM and MotivesCosmetics.com – which has undergone a makeover that will be revealed at the event and released to the world a few days following the conference.
Motives will also spotlight its highly successful Instagram initiative that lead to the formation of the Motives Mavens, massively influential social media beauty experts who have provided input on some exclusive new products being launched at this year's event.
"We have combined the passion, beauty expertise and social influence these amazing women have with our unrivaled marketing systems," said Loren Ridinger. "The result is a unique, gorgeous and trendy assortment of products and colors that can't be found anywhere else."
After debuting six months ago, one of the company's hottest product lines – DNA MiraclesTM and DNA Miracles Natural, created by Amber Ridinger McLaughlin and Duance McLaughlin – will be expanding. Two new products, DNA Miracles Probiotics Plus and DNA Miracles Natural Soothing Ointment will be introduced into the lines of high quality body and wellness products for babies, children and expectant mothers.
The company's weight loss division, TLS® Weight Loss Solution, will announce the winners of its TLS Find Your Fit 2013 Fall Challenge, awarding a total of $100,000 in cash prizes. This year's winners were selected by the public during a week-long online vote.
The company will also launch multiple new health & nutrition products, including: Awake® Energy Shots, an alternative to the sugary energy drink market that provides B-vitamins and amino acids with zero calories or sugars; an expansion of the popular ChoiceTM energy and protein bar line with two new flavors – Brownies & Cream and Vanilla Caramel Crunch; and more.
During the event, attendees will be treated to musical performances from up and coming Conquer Entertainment artists. Conquer Entertainment will also introduce new platform features to assist independent artists launch their careers without sacrificing creative and business control of their unique brands.
Finally, Chief Operating Officer Marc Ashley will present the new digital enhancements of the company and will talk about SHOP.COM's 2014 marketing strategies to better improve shopping experience. Ashley will introduce the new Home Shopping Advisor, which identifies savings on virtually everything customers purchase as well as calculating cash back they earn from those purchases. Ashley will also announce the company's partnership with Adobe to offer even better product recomendations based on what customers are viewing on SHOP.COM, as well as discounts offered to first time customer orders among many other exciting announcements.
"This is one of the most exciting years in the history of the company," said Ashley. "The company is growing at such an incredible pace and opportunities for success are greater than ever. We've been working really hard to develop new features, bring new technologies and new products to meet the demand of the marketplace, and make sure customers have the best online shopping experience".
For up-to-the minute conference updates, visit the Market America blog (http://blog.marketamerica.com) or follow the conversations on Facebook (http://www.facebook.com/marketamerica; http://www.facebook.com/SHOP.COM) and Twitter (http://www.twitter.com/marketamerica, http://www.twitter.com/SHOPCOM, or search #MAWC2014).
ABOUT MARKET AMERICA, INC. & SHOP.COM
Market America, Inc. is a product brokerage and Internet marketing company that specializes in One-to-One Marketing. Its mission is to provide a robust business system for entrepreneurs, while providing consumers a better way to shop. Headquartered in Greensboro, NC, the company was founded in 1992 by President and CEO JR Ridinger and has generated $4.3 billion in accumulated sales. Market America employs nearly 700 people globally with operations in the United States, Canada, Taiwan, Hong Kong, Australia, United Kingdom and Mexico. Through the company's shopping website, SHOP.COM, consumers have access to over 40 million products, including Market America exclusive brands and thousands of top retail brands. By combining Market America's entrepreneurial business model with SHOP.COM's powerful comparative shopping engine, Cashback program, Hot Deals, social shopping integration and countless other features, the company has become the ultimate online shopping destination.
For more information:
United States: http://www.marketamerica.com or http://www.SHOP.COM
Mexico: http://www.marketamerica.mx or http://www.MX.SHOP.COM
Canada: http://www.marketamerica.com or http://www.CA.SHOP.COM