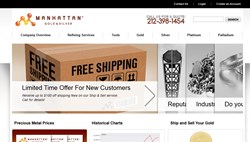 Manhattan, New York (PRWEB) February 06, 2014
Manhattan Gold & Silver (MGS), a B2B precious metal refiner in New York City's Diamond District, launched a redesign of its website on January 8, 2014.
The refreshed MGS website retains all of the functionality of the original, including up-to-date precious metal prices (set by the London fix), explanations of refining services and payouts, and tools and resources for enthusiasts in the precious metals markets. The new website features completely new aesthetics and design elements that create a modernized look and feel, as well as a superior user experience.
To celebrate the launch of the new website, MGS is offering new customers free shipping on its Ship & Sell service – which provides businesses outside of Manhattan with a fast and secure way to refine their precious metal scraps and collect high payouts. Customers are encouraged to call MGS at 212-398-1454 for more details.
Manhattan Gold & Silver (MGS) started as a small, family-owned operation in 1985 and has grown into one of the country's leading precious metal refining firms. Over the years, it has stayed true to its family roots. The core team—who hand-sorts metals for quicker onsite transactions and gives price quotes to potential customers—has remained unchanged since the company's inception. MGS serves all types of businesses with refining needs by processing metals from all types of applications. MGS clients are typically jewelers, pawnbrokers, dentists, or any number of industrial firms that produce precious metal byproducts as a result of the work they do—such as silver scraps left over after photographic processing, jewelers polishing material, medical devices and apparatuses, etc. MGS works with platinum, gold, palladium, and silver.
With onsite melting and assaying facilities, clients can be assured of a quick transaction for any amount of precious metals. With exchange rates set daily to the London Fixing, clients are also assured a fair price. Aside from being a major sponsor of the New York State Jewelers Association, Manhattan Gold & Silver is also active in the community and philanthropic giving – sponsoring many local charity events and organizations.