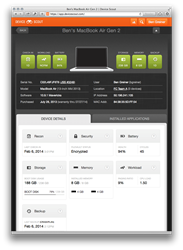 Device Scout is a useful tool for departments that need access to high level workstation information, in a read-only format, to make intelligent purchasing and device management decisions.
Chicago, IL (PRWEB) February 13, 2014
With monthly pricing now as low as 25 cents per device for up to 3,000 devices, Device Scout is more affordable than ever as a SaaS subscription to enterprise organizations managing and hosting their own Casper Suite for Apple device management.
Device Scout 3.0 is the intelligent browser that leverages the JAMF Software Server (JSS). It presents a wealth of information about any Apple device in an elegant, easy-to-understand format. Device Scout adds a layer of analysis that provides a very focused, historical snapshot of the critical information found in the JSS. This information provides quick insights to promote proactive device management strategies and purchasing decisions. Device Scout is ideal for employees that need access to high level Mac or iOS data stored in their JSS — even when they are not trained Casper Suite Administrators. Device Scout empowers IT departments with the capability to easily distribute Device Scout access to employees throughout their organization. It also allows Managed Service Providers (MSPs) to provide automated, 24/7 reporting to their clients.
Device Scout is an excellent way to provide fast, focused, and critical device information to Tier-1 Support Desk staff and non-technical administrators (anyone who is not a Certified Casper Administrator).
Device Scout is also available as part of Forget Computers' comprehensive Mac and iOS device management solution, Robot Cloud — a complete buildout of the JSS framework. Robot Cloud is packaged with additional timesaving tools that enable IT administrators to make smarter decisions while delivering proactive management to their Mac and iOS devices.
ABOUT FORGET COMPUTERS
Founded in 1998 by Ben Greiner, Forget Computers is a team of Apple IT specialists skilled in delivering Mac and iOS device management and support to Chicago creatives and IT professionals worldwide. Greiner, considered a leader among Apple-centric Managed Service Providers, has recently published the following articles in i.Business Magazine: "Best Practices for Creating Apple IDs," "Six Steps to Better Mac & iOS Security," and "Secure Corporate iOS Devices the Smart Way." 55 Minutes is a web development consultancy in San Francisco, building apps for design-led businesses and startups.