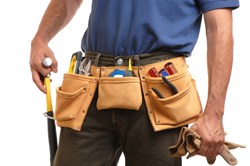 (PRWEB) February 06, 2014
General liability policies for residential handymen are now available by accessing the USA Business Insurance website. This protection is a must for all working handymen who deal almost exclusively with the public. It pays all legal defense bills for named coverages which include bodily injury, medical payments and property damage. This is a comprehensive liability product.
For example, if a customer visits the shop and injures themselves in a slip and fall, the liability coverage will cover costs related to any injury suffered. This includes attorney costs, court-mandated judgments and medical bills from the injured party.
"General liability is an insurance any handyman should purchase even if they operate out of a home shop and/or office," said a spokesperson at the Burbank, California based USA Business Insurance. "The exposures are there (including claims made because of perceived slander or liable resulting from an ad run by the handyman). Just one claim could cripple the business financially if the handyman is not adequately covered."
About USA Business Insurance
The residential handyman general liability insurance program offered by USA Business Insurance is specifically tailored for the handyman business. In addition, USA Business Insurance offers similar liability products for several other business types usually accompanied by discounts, great rates and flexible payment plans.
For more information, click here.