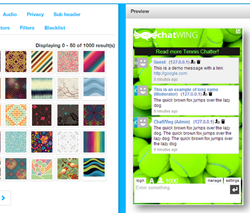 Dallas, TX (PRWEB) February 12, 2014
Since Chatwing Company undertook various strategies in 2013, the core developers and project leaders have decided that it is time to push new directives. With these directives, the company will be able to learn more about their clients and users. Moreover, Chatwing widget improvements are also imminent this 2014.
Here are the directives discussed by the Chatwing Team:
Moderators should invest time in learning more about Internet trends and popular topics. While this is not compulsory, knowing the trends can increase the authority of the moderators. Interaction rate among the chatrooms chat app will become better if the moderators are knowledgeable regarding the niches that they specialize in.
Chatwing chat room software support extension is also crucial. This simply means that the moderators should know how to use the Chatwing chat box from the inside out. It is expected that chatroom visitors will ask about some Chatwing widget functions, and the moderators should answer them right away. Posting short Chatwing video tutorials can also help the visitors.
Moderators who can make the chatrooms lively are crucial for Chatwing's chat software growing popularity. This can be done by posting funny and captivating pictures, as well as videos and popular Internet memes. The creative moderator will always create synergy among chatroom visitors.
Chatwing is still looking for moderators to fill its chatroom slots. Well-performing moderators will be rewarded through dollar incentives and virtual coins.
About Chatwing.com
Chatwing.com is a company that has brought innovation to the modern chat widget. Operating for more than five years now, Chatwing and its team of developers have dozens of ideas ready to be introduced to the public. The Chatwing chat app is an easy-to-use online tool that can help web users interact with each other and can also generate continuous traffic. Chatwing will always be a "freemium" application for everyone.