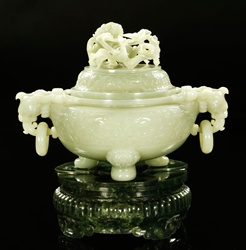 Beverly, MA (PRWEB) February 27, 2014
The weekend of January 19th saw one of Kaminski's most successful Fine Asian Art and Antiques auctions to date. With 535 hundred lots, the sale, headed by Department Head Bob Yang, set a record for the Beverly based auction house.
While there were many high selling pieces in the auction, the highest price of the day was reached on Lot 7025, a monumental Chinese jade censer that sold for $204,000. The truly exceptional censer is carved from a single piece of even white or pale celadon colored jade, with a foo lion heads carved in high relief, and an incised design of archaic patterns, including taotie and other designs. The cover features carved openwork depicting a foo lion playing with ribbons and a ball, atop a custom spinach jade base carved with a ribbed design. Many Internet bidders competed for the lot, which ultimately sold to a domestic phone bidder.
The second most popular jade lot was an 18th century white jade cup. The piece features handles carved in the form of flowers and rings, while the body is covered in the scrolling vegetal design. The cup was presented on a similarly ornate carved and inlaid stand, with an original estimate of $3,000 to $5,000. It ultimately sold for $49,200 to a determined bidder on the phone.
Paintings from the collection of Mr. Zhang Guohe also performed well above estimate. Zhang Guohe was a prominent figure in twentieth century Chinese history. A former Colonel of Chiang Kai-shek's army, he attended the Japanese surrender in Hunan Zhijian, in August 1945. During his lifetime Mr. Zhang was an avid collector of many prominent and influential Chinese artists.
The highest selling scroll was a Chinese watercolor painting of a pair of quail, dedicated to Mr. Zhang. The artist, Li Kuchan was a master painter, calligrapher and educator of art. He specialized in bird-and-flower painting in the free and spontaneous xieyi ('sketching the idea') style. While many bidders competed for the impressive work, it ultimately sold to a bidder on the phone for a grand total of $44,460.00.
His collection included many other works by masterful 19th and 20th century Chinese painters. The among highest selling of these were works by Wu Hufan, Li Kuchan, and Li Xiongcai, which sold for around $39,360 each. Lot 7113A, the Wu Hufan work, depicted a rushing waterfall among the mountains, while Li Kuchan's watercolor presented an eagle atop a pine tree. Lot 7112, a horizontally oriented landscape by Li Xionchai also captured a view of a mountainous landscape, complete with a waterfall, figures, and trees.
Porcelain pieces and huanghuali furniture also performed well above estimate. A rare 16th century Longquan bowl, glazed in celadon green and carved with a floral pattern was originally estimated at $1,000 to $2,000. With only minor scuffs and finish wear in the interior, the piece was a great find, and attracted many bidders. After a protracted bidding period, the piece was awarded to a phone bidder for $13,200.
Early in the sale a pair of Chinese Huanghuali wood chairs fetched high prices when competitive bidding drew the price well above the original $1,000 to $2,000 dollar value. After much competitive bidding, the pair sold to an Internet bidder for $9,225. Throughout the sale, huanghuali pieces commanded high prices, with the majority of lots selling above the high estimate.
Lot 7149 also surprised many in the audience. A relatively small table screen measuring approximately 11" h x 9" w, the piece featured a carved Qianlong poem in gilt characters, and a jade plaque carved with foo lions. When the lot was open, bidding quickly soared above the $750 opening bid to finally settle at at a $19,890 selling price.
While a decent crowd congregated to watch the auction in person, the primary bidding of the day took place on the phone and online. Kaminski's own service, KaminskiLIVE, introduced in November, did over $200,000 in sales. The auction house is now actively seeking consignments for their next Asian Art and Antiques Auction, to be held in May, 2014.
KAMINSKI
Kaminski Auctions, located on the North Shore of Boston, has been serving the New England antiques market for over 25 years as a full service auction house and appraisal service for fine art, antiques and estates.
With two locations in Beverly, Massachusetts, including a new state of the art auction gallery located at 117 Elliott Street, and a historic 1850's barn and office facility at 564 Cabot Street, Kaminski Auctions hosts 25 auctions a year.
In today's highly competitive market of fine art and antiques, Kaminski Auctions provides its customers with bicoastal services and marketing with west coast offices in Beverly Hills and San Diego, California.
Kaminski Auctions offers specialty departments in Asian Art and Antiques, Silver, Glass and Lamps, Couture and Vintage Clothing, Photography and Modern Design . We have highly trained and knowledgable appraisers on staff that will help you determine the true value of your antiques, or entire collections. Free Appraisal days are offered every Tuesday from 10:00 a.m.-4:30 p.m. at our 564 Cabot Street location in Beverly, Massachusetts & by appointment at our 5171 Santa Fe Street location in San Diego, California. We welcome emailed photos of your items. Contact consignments(at)kaminskiauctions.com
We would like to thank all of our customers, consignors and friends for voting Kaminski Auctions #1 Best Auctioneer on the Northshore - Reader's Choice Award! "Kaminski has earned its gold-star reputation by serving the New England antiques market for over 25 years. Specializing in the sale of Asian art and antiques, silver, glass and lamps, couture and vintage clothing, photography, and modern design, the full-service auction house provides expert appraisal services. From its Beverly art gallery and historic barn comes a wealth of experience with fine art, antiques, and estates values." - Northshore Magazine