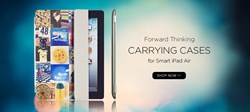 HK, China (PRWEB) February 08, 2014
It's a general belief that the Val period is such a season wherein people all over the world demonstrate love through the exchange of gifts, and it is very certain that online shopping activities will increase very soon as the day approaches. BagsQ, an online gadgets accessories shop, now launches a special Valentine promo on high-quality Samsung cases with 95% discounts on all purchases.
For a long time, BagsQ has been in the gadgets industry as a retail and wholesale source of classic and high-quality phone casing. The online shop sells unique and cute mobile cell phone cases, including iPad cases; and there are various products being offered at competitive prices. In preparation for the Valentine season, the store plans to provide the best deals to prospective customers who may like to buy new casing for Samsung phone products.
According to the owner of BagsQ, it is obvious to every gadget owner that a mobile device is not complete in itself without the use of essential accessories that would enhance its functionality or add to its classic design. "As from February 14 till February 17, 2014, BagsQ storefront will be open to online shoppers who want cheap, high-quality Samsung cases. They will enjoy 95% discounts on their favorite products, irrespective of the number of orders."
While giving a recent report on the wide variety of Samsung cases that are now available on the market, he states, saying, "Casing products that come with stylish designs include Faux leather cases, hard gel cases, Samsung flip cases, and Samsung Armor cover. During the Valentine promo, shoppers can find their favorite cases at 95% discounts."
"It's our pleasure to announce that all regular customers, including new ones, should watch out for this special Valentine promo that will kick off on 14 February, 2014. The cases are handy products that people can even purchase as gifts for their loved one during this season of share and care," the owner of BagsQ affirms.
For more information on the Valentine promo of BagsQ on varieties of Samsung cases that the store will offer at 95% discounts, visit http://bagsq.com.