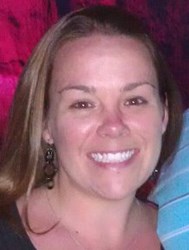 FOREST CITY, Iowa. (PRWEB) February 06, 2014
When Waldorf College awarded an ecstatic Leslie Hancock, 33, of Senoia, Ga., a Hero Behind the Hero Scholarship, her response reflected why she received the award.
"It simply means an opportunity of a lifetime that allows me to follow my educational dreams that would have never happen otherwise," Hancock said.
The Hero Behind the Hero scholarship, which honors the spouses and children of active-duty public safety personnel (firefighters, law enforcement officers, EMTs and dispatchers) and military men and women, covers tuition for up to 24 months for one specific degree program with Waldorf. Leslie Hancock is the wife of Richard Hancock, an accident investigator/traffic enforcement officer with College Park (Ga.) Police Department.
"With our current incomes and my financial aid, it just wasn't possible for us to cover the funds needed for me to earn my bachelor's degree. Two months ago, I finally came to the realization that I was at a standstill with my education, and I was so upset. I had given up," said Hancock. "When I received my email, I was sitting in a parking lot with my phone. I opened my email to find my award notification, and I screamed, laughed, and cried sitting in my car! The amount of joy and happiness that this scholarship has given me is amazing."
Hancock, who is an administrative assistant to the director of Public Works and Engineering, plans to use the scholarship to pursue an online degree in business administration with a concentration in human resource management at Waldorf.
She added that she enjoys her job because "I enjoy being part of this team and being able to give back to the citizens on a daily basis. The citizens are what make the county so wonderful, so it's amazing to be able to help provide assistance, resolutions, and protection when they are in need."
Waldorf College, based in Forest City, Iowa, features residential and online degree programs in popular fields such as communications, fire science, criminal justice, business administration and more. Learn more at http://www.waldorf.edu/online or call 877-267-2157.