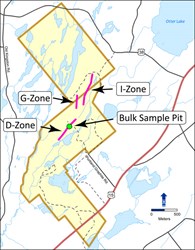 Vancouver, B.C. (PRWEB) February 07, 2014
Surging global graphite demand is amplified by green technologies including fuel cells, hybrid-electric vehicles, lithium-ion batteries, pebble bed nuclear reactors and graphene.
On January 27, 2014 Pistol Bay Mining (PST-TSX.V) acquired an extensive inventory of historical data on the Portland Graphite property 1.6 km north of Highway 15, between Kingston and Ottawa in Southeastern Ontario.
The road-accessible Portland property is situated on private land covering 429 hectares. Power and water are available on-site and rail access is nearby. Pistol Bay has the option to buy the land.
"The Portland graphite is hosted primarily in Precambrian marbles," explains Pistol Bay President and CEO Charles Desjardins in an exclusive interview with Financial Press, "this creates a shell around the deposit. It's like mining in a bathtub. You don't get any of the undesirable minerals in the host rock like pyrite and sulphur. Just clean carbonates. So there is no issue with tailings. That makes the path to permitting and plant construction much more navigable."
In the 1960's Ontario government geologists reported that the Portland graphite occurs as disseminated flakes averaging 1/8 inch in diameter. Twenty years later Victoria Graphite drilled 73 holes into the property totalling 5,884 meters.
"The drilling identified graphite mineralization in three zones over a total strike length of 1700 meters," states Desjardins, "Within broad envelopes of graphite mineralization, there are zones of high grade material, greater than 10% graphitic carbon."
Victoria Graphite operated a 100 tonne per day test pilot plant in the early 1990's. The mill building is still on the property and could be a significant asset in the development of the project.
Due to the depth and breadth of the historical data, a relatively small work program could quickly determine the feasibility of the project. The ability to fast track a production decision differentiates Pistol Bay from many of its peers.
The recently acquired historical data consists of geophysical, diamond drilling, engineering and metallurgical reports. Although it does not conform to NI 43-101 standards, the historical geological work appears to be rigorous and professional. A program of re-logging, re-sampling and re-assaying of drill core is now required. This historical data allows Pistol Bay to expedite the development plan and production decision on the Portland Graphite project.
Desjardins has ordered an aggressive 2014 work program: 1. Update geophysical survey 2. Complete 3-D geological and mineralization models. 3. Strip and map the former pit. 4. Delineation drilling. 5. Prioritize areas with highest grade/best widths for 2nd round of drilling. 5. Complete an initial 43-101 resource estimate. 6. Focus on fast-tracking the highest grading pod towards Definitive Feasibility Study and production decision.
"We are also currently executing a metallurgical test program on a composite of the Portland graphite material," states Desjardins, "the primary objective of this program is to develop a systematic flow sheet that will lead to the production of a saleable graphite concentrate grading greater than 95% carbon."
This current metallurgical program will provide updated data on a 34 tonne sample carried out in the late 1980s. The historical work indicated coarse flake (+48 mesh) content of 66%. This rare large flake is in high global demand due to declining inventories and can command up to $2200 per tonne in concentrate form.
With modern methods for graphite flake recovery, flotation and purity, PST believes that the concentrate produced through the metallurgical test program will be marketable in North America.
Unlike gold, graphite is not openly traded. Prices - based on purity and size - are negotiated directly between the graphite mine and end-users.
"Our plan in 2014 is to send samples to end-use buyers in North America who are already familiar with the Portland product," states Desjardins, "from this process we may attract a financing production partner requiring a steady graphite supply from a politically stable region. One of our differentiating factors is the modest anticipated capex. Although the hard figures will emerge from a Preliminary Economic Assessment, we believe that we can build a compact, efficient, economic graphite mine at Portland for around $15 million."
Pistol Bay's timing couldn't be better. Global graphite demand is around 1.2 million tonnes and is expected to hit 1.4 million tonnes by the end of 2016. Most of the world's flake production currently comes from China. But China has in instituted a heavy 20% export duty on graphite and a 17% Value added tax. Its own factories are eating up most of the domestic supply.
A European Commission study has declared graphite among 14 critical materials with high supply risk. Battery application demand for the next decade is projected to grow 10-18%. The world is looking outside China for new graphite supply chains.
Pistol Bay has also optioned four uranium properties in the Athabasca Basin, the home of Fission Uranium. Rio Tinto has an option on three of them and is currently drilling Pistol Bay's C-5 Property.
Pistol Bay's also holds three properties consisting of over 8,500 hectares adjoining the boundary of the Imperial Metals Red Chris Copper-Gold project, located 80km south of the town of Dease Lake in in the Iskut area of northern BC. The 1,394 hectare Summit B property is contiguous with Colorado Resources' North ROK property and 20 kilometres northwest of Imperial Metals Red Chris Copper-Gold project. Revolver Resources has an option to earn a 60% interest in the Summit B property and is currently drilling.
Pistol Bay is currently trading at .09 with a market cap of $2 million.
Legal Disclaimer/Disclosure:
A fee has been paid for the production and distribution of this Report. This document is not and should not be construed as an offer to sell or the solicitation of an offer to purchase or subscribe for any investment. No information in this article should be construed as individualized investment advice. A licensed financial advisor should be consulted prior to making any investment decision. Financial Press makes no guarantee, representation or warranty and accepts no responsibility or liability as to its accuracy or completeness. Expressions of opinion are those of the author's only and are subject to change without notice. Financial Press assumes no warranty, liability or guarantee for the current relevance, correctness or completeness of any information provided within this article and will not be held liable for the consequence of reliance upon any opinion or statement contained herein or any omission. Furthermore, we assume no liability for any direct or indirect loss or damage or, in particular, for lost profit, which you may incur as a result of the use and existence of the information, provided within this article.
Also, please note that republishing of this article in its entirety is permitted as long as attribution and a back link to FinancialPress.com are provided. Thank you.