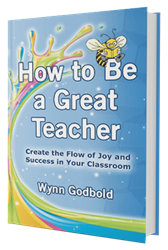 (PRWEB) February 11, 2014
Unhappy teachers, overwhelmed teachers, and frustrated teachers fear not. A new book recently hit the online marketplace to help alleviate the stresses of teaching.
"How to Be a Great Teacher: Create the Flow of Joy and Success in Your Classroom" is a new teacher help book by Wynn Godbold, founder of the International Academy of Bee Sharp Teachers. The book explains why the current paradigm in education sets teachers up for feeling overwhelmed and frustrated; then proposes a new paradigm for teachers everywhere to follow.
"I spent half of my career overwhelmed and frustrated in the job I believed I was called by God to do," explains Godbold. "Finally, I made a decision to do things differently. I knew I had to get this message out to other teachers because it changed my teaching and my life for the best. I want all teachers to be in their classrooms filled with joy and success."
Following the paradigm explanation the book jumps into a 9-step process helping readers on "How to be a Great Teacher." The steps are broken into three major categories – Decide, Believe, and Share.
"I figured out these nine steps in my own practice and they changed my life," says Godbold. "When I started traveling the country, I met tons of teachers who were like me in the first half of my career. One day, teachers who read this book will look back and say, 'My worst day now is better than my best day used to be'."
To order "How to Be a Great Teacher" on Amazon visit http://www.amazon.com/dp/1492399205/ref=cm_sw_r_tw_dp_gT.8sb0TVEVF6QMH. To learn more about the Bee Sharp Academy please visit http://www.beesharp.us.
About Wynn Godbold and Bee Sharp
Wynn is a speaker, trainer, administrative coach, and expert in joyful teaching. She is passionate about empowering educators to release their feelings of overwhelm and frustration and find the balance they need to flourish in their calling. Her teacher retreats are known to empower teachers to love their lives. Teachers worldwide experience personal growth through the products and packages she offers on line. In June of 2012, Wynn kick started the International Academy of Bee Sharp Teachers. Wynn is Nationally Board Certified in Reading and the Language Arts. She has certifications in Education Administration, Elementary and Early Childhood Education. In addition to running Bee Sharp, she consults for the McGraw Hill Education Group and serves on the Educational Team at Page Turner Adventures.