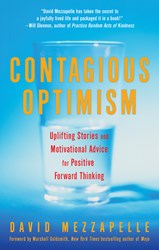 "Read Contagious Optimism to better understand why optimism is so powerful... It empowers, motivates and leads people to tremendous results." —James F. Mooney
(PRWEB) February 10, 2014
The Contagious Optimism Show is a radio-video series that runs twice per month on Wednesdays at 2:00pm PT on the Universal Broadcast Network. They broadcast live from Hollywood's famous Sunset Gower Studios. The host is the amazing Sunny Chayes. David Mezzapelle, author of the bestselling book series, Contagious Optimism, will co-host at intervals throughout the year.
The Contagious Optimism Show includes inspirational stories and interviews from guests, coauthors in the Contagious Optimism Book Series, and more!
The mega dream coach, author, and CEO/Founder of DREAM UNIVERSITY Marcia Wieder kicked off the first CONTAGIOUS OPTIMISM SHOW. Host, Sunny Chayes and Marcia discussed "12 Ways to be a 21st Century Visionary", how to declare "NO MORE" of what we don't want to make room and clarity for what we do want. Marcia brought us significant and simple action steps for creating "MEANING and MONEY"in our lives. Also, a generous gift of a way to get to the WEALTHY VISIONARY CONFERENCE this year.
Contagious Optimism
Uplifting Stories and Motivational Advice for Positive Forward Thinking
By David Mezzapelle
Contagious Optimism includes stories, advice, actions and insights from business leaders, visionaries, professionals and just plain folks. David Mezzapelle believes that we all have the capacity to make optimism contagious just by sharing our life's adventures, and he's found a group of unstoppable optimists who have made their lives exactly what they want them to be. Also available in audiobook. A portion of the proceeds from for Contagious Optimism will go to Fairfield University and various charities.