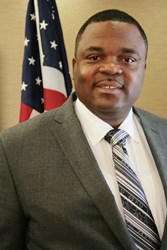 Washington, D.C. (PRWEB) February 08, 2014
Robert Steward, managing partner of Integra Asset Management (http://www.integra-am.com), told an audience of STEM professionals and students that diversity on many levels holds the key to success in today's business world.
Steward was a panelist on a seminar yesterday discussing specific strategies for businesses as they strive to incorporate diversity and inclusion initiatives as tools for growth and success. The seminar was part of The 28th BEYA STEM Global Competitiveness Conference, a three-day event designed to broaden diversity within the country's technical and scientific work forces.
BEYA STEM recognizes and promotes advancement of men and women who are pursuing and sustaining science, technology, engineering and mathematics (STEM) based careers. Conference participants come from a broad cross-section of occupations such as government professionals and corporate executives, K-12 students, teachers and professors, and college students. The event was hosted by US Black Engineer & Information Technology magazine, the Council of Engineering Deans of the Historically Black Colleges and Universities, and Lockheed Martin Corporation. It continues through today at the Washington Marriott Wardman Park Hotel.
"Diversity of color, age, gender and personality allows a corporation to draw on a great wealth of individual creativity and experience, " Steward said following the conference. " I'm delighted that I was able to share how Integra is able to harness the diversity of our employees to make our company the best it can be."
Integra Asset Management is a technology asset management company providing comprehensive IT life cycle solutions to the public and private sectors. Its capabilities encompass the complete range of services, including design, procurement, installation, maintenance, commissioning and recycling. Fillcor LLC, dba Integra Asset Management, is a certified Minority Business Enterprise (MBE) based in St. Louis, Missouri and is approved for the Small Business Administration 8 (a) Business Development Program for disadvantaged businesses.
#####
Media Contact: Kathleen Siedlecki, 312-450-3125 or ksiedlecki(at)integra-am(dot)com