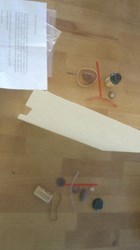 "I never knew there was so much to know," commented one parent. "No wonder reading is so hard!"
Edmonds, Washington (PRWEB) February 21, 2014
On February 6, 2014, five volunteer parents and three first-grade teachers sat down after school with Katie Johnson, author of Red Flags for Primary Teachers: Neurodevelopmental and Vision Issues and What to Do About Them (Tendril Press, 2013). These parents came to learn from Katie some strategies and games they can do and play with children who have some tracking or other vision problems that interfere with their reading. Katie Johnson has met and worked with all 78 children in these classrooms during the past three months, doing a rough initial screening of their binocular vision, or near-point vision, which they need for reading.
In addition, these children have been screened, as have all Washington first-graders, by the school nurse in the fall for distance vision, the ability to see letters an inch high at 20 feet away, also known as 20/20. This test is not relevant for reading.
"The two most important vision skills for reading are teaming and tracking, but there are at least ten more!" Katie told the parents. "Let's start with the easiest, which is visual memory." She divided the group into pairs and gave each pair two identical sets of small objects in small bags: paper clip, bobby pin, bottle cap. piece of ribbon, cork, small straw, rubber band) and asked one of each pair to make a design with the objects behind a barrier. in this case, a book standing open, so the partner could not see the design. The maker of the design took away the barrier and counted to fifteen while the partner studied the design. Then the barrier went back up and the partner had to recreate the same design.
The players switched roles and played again
"How did you do?" Katie asked when the time was up and the barrier and materials had been put away. Replies ranged among the players from "That was easy," to "That was hard" and the discussion was spirited.
"What is this for?" asked one of the moms. "It was really easy for me."
"Good!" Katie responded. "Your visual memory is strong, and you can probably easily remember letters and words not only by their sounds but also by their shapes. This is a very useful skill in reading and writing but also has some applications for other work, such as arithmetic and being able to find things in your desk."
Reminding them that other areas of vision were much more difficult, Katie showed the group how to do a simple exercise in eye-tracking, following a paper eyeball on a stick as another person moved it slowly across her field of vision both horizontally and vertically. "This will be a good thing to do first, with every child you work with even if it doesn't come up on the list of that child's needs. Tracking from one side to the other of a page of print and from the top to the bottom is how we read in English. It must be completely automatic; the muscles that move the eyes must be strong. Following the eyeball can strengthen those muscles."
Before the session was over, the participants also learned about eye-teaming, focus, seeing both halves of a drawing, and two areas of neurodevelopment, balance and sidedness.
"I never knew there was so much to know," one parent commented. "No wonder reading is so hard to learn!"
All the activities and the explanations for why they are important are included in Red Flags for Primary Teachers. Katie will return to College Place to re-screen the children in the spring and, quite probably, see the results of the volunteers' efforts.