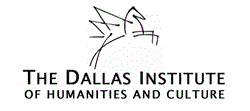 Sustainability is not new. It is an enduring and timeless concept that shows up in ancient and modern texts alike.
Dallas, Texas (PRWEB) February 10, 2014
The Dallas Institute of Humanities and Culture brings Tony Robinson, adjunct professor of environmental sustainability at SMU and associate editor at EarthPeople Media, back for another series on Culture and the Environment: Humans in the Natural World. The lecture series will continue over four Wednesdays from 6:30-8:30 PM: February 12th, March 12th, April 9th, and May 14th and is open to members, non-members, and teachers.
"Sustainability is not new. It is an enduring and timeless concept that shows up in ancient and modern texts alike," says Robinson. "This series offers participants a rare opportunity to explore the timeless principle of sustainability from several important vantage points through reading and discussion."
Mr. Robinson blends a unique body of knowledge as a building consultant, author, and poet to ignite discussion around human impact on the natural world from the perspectives of ecology, politics, anthropology, and geography. The classes this series covers include:
ECOLOGY, February 12. Ecology is a truly interdisciplinary field, integrating such disciplines as biology, philosophy, chemistry, ethics, etc. What does ecology tell us about how the human organism interacts with its environment? Do human beings have a different kind of relationship with the biosphere than other organisms? Is culture part of the answer?
POLITICS, March 12. Political systems influence our behavior in numerous ways, including the footprint of human culture on the environment. Where do politics, the environment and the media intersect? How can citizens better communicate the issues by using the "framing" concept, for example, of George Lakoff? How can citizens affect change in public policy and the environment?
ANTHROPOLOGY, April 9. What does the fossil record say about how early hominids dealt with the environment? Homo Sapien is a supreme tool-maker, which has helped humanity develop numerous ways to improve chances for survival. But is our tool-making prowess outstripping our ability to make good judgments about the environment? How can humans adopt more sustainable practices in the biosphere?
ECONOMIC GEOGRAPHY, May 14. Economic geography, like ecology, is an interdisciplinary field of inquiry. Among other things, it examines how the geophysical location of resources influences the development of economic systems and human cultures. How does the more recent and widespread exploitation of minerals and fossil fuels dominate the direction of human society? Is this a temporary phenomenon, a stage in the evolution of human culture?
EarthPeople Media President Anna Clark will join Mr. Robinson as a guest lecturer for his session on political communication on March 12.
"I am delighted by the invitation to share my experiences in advocating for change in the legislative arena," said Clark, who has operated EarthPeople, a sustainability communications firm, since 2005. "There are so many ways for people to absorb sustainability concepts. Bringing about social change requires more nuanced forms of communication. To become successful at communicating sustainability, change agents must not only know the facts, but also master the art of storytelling and the science of cognitive linguistics."
To enroll in the course, click here to visit the Dallas Institute of Humanities and Culture website.
About EarthPeople Media
EarthPeople Media is the publishing division of EarthPeople, a specialized communications firm founded in 2005. EarthPeople Media supports the development of leaders, readers, authors, and causes through books and content on culture, innovation, personal development, social entrepreneurship, and sustainability. We are member of 1% for the Planet and the Green Press Initiative. For details, visit http://www.earthpeoplemedia.com.