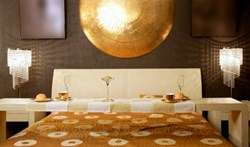 Bold wooden furniture pieces can provide the charm of a room design and add a one–of–a-kind style with its imperfections.
San Francisco, CA (PRWEB) February 11, 2014
Rustic, industrial, eclectic, '60's modern or early 20th c. vintage have become today's favorite home interior designs because of the plethora of flea markets, antique fairs, swap meets, garage sales and second hand stores that have attracted almost everyone who owns a home. Every collector / homemaker has had the freedom to put together a unique home design with each market treasure scored. In fact to many of these flea market warriors, the more abused and time-worn the industrial, rustic or vintage piece appears, the better. Men and women both find the character of the imperfections in wood or metal pieces irresistible. Bold wooden furniture pieces can provide the charm of a room design and add a one–of–a-kind style with its imperfections. Perhaps most interestingly, this beaten up patina works well when placed next to a leather sofa or upholstered chair. At KindaChic.com, an online home decor and furnishings retailer, newly created décor pieces can unite time-worn chic with the clean lines of a modern minimalist style.
For a collector of these market treasures, the next step in developing a home design is to provide the perfect setting for this collection. Selecting the perfect color theme will unite the space with each individual piece of furniture, décor or art piece. It may seem easy to choose colors for one room or even an entire home design. After all, choosing colors is an everyday fact of life, i.e., fashion, ipad accessories, automobiles, nail color. But what is a successful use of colors in product design seldom translates into color combinations that work in a home design. Often, the result of applying certain color combinations in the home is an unsettling experience for its occupants.
Certain colors, combined with their secondary, tertiary, or complementary colors, and used in a room design, are known to be able to change the mood of the room's guests. The use of white in a room can boost the visitor's mood, with its airy, refreshing and clean look. An application of yellow can also have an uplifting effect just as a ray of sunshine produces. Various shades of pink are felt to be soothing by their association to the feminine and all that tastes sweet. Pink and peach can also bring a blush to certain complexions for a radiant glow. Warm reds usually engender passionate and stimulated states of mind as well as the feeling of warmth. With the color blue in the interior design, a meditative atmosphere is achieved, and this color can be a cooling element to a room receiving regular sun and heat. The color blue has been shown to lower blood pressure and heart rate much like the blue water of a pond or lake. It has also been used in interior spaces to help a confined space feel larger, similar to the expansive feel of the blue sky. The color purple, if it is a bluish shade, can induce serenity and calm. Reddish shades of purple have long been associated with power and were thus used by royalty. The psychological effects from using the color green are similar to those of the color blue, and are perceived as being soothing. Brown can add depth and warmth to a space and with its connection to chocolate and coffee, the effect is often pleasant when used. The browns found in the natural world can translate to a rustic design when applied to the inside. The careful use of black gives an elegant and sophisticated air to a home design. Black is a studied mix of all the colors and the proper combination yields a very rich and lustrous hue. Colors are perceived as warm or cool by the eye. The cool colors are the blues and greens, like the blues and greens found in nature. The warm colors are the red, yellows and oranges, and are associated with fire and the sun.
There are a lot of details to consider when making the first color selection. To determine what colors should be used in each room, a careful consideration for the use of each room is needed. It is also important to understand how much light enters the room during the different times of day. The amount of available light will affect the chosen shades and tints of a color. Also, at what time of day will a room get the most use? Knowing the psychological effects that color can create in a room, what mood will best suit this use of space? Remember that color is not only applied to the walls, and the selection will pick up the shades and tints found in one's collection of market treasures. There are endless color combinations and endless ways to influence, inspire, or soothe a home's occupants and its guests.
Next, highlight a room that is devoid of architectural styling with a unique collectible piece. Consider hanging the grand antique chandelier or pendant lamp in this space. This chandelier will be the room's focal point. The furniture design in this room should not compete with the design details of the light fixture. Let this fixture carry the charm of the room's style. A large distinctive vintage coffee table can be the appropriate counterpoint to the pendant light fixture. Another idea to consider in a featureless room is a unique furniture layout with the distinctively designed pieces. This simple idea can be a success that is dependent on the size and shape of the room as well as each furniture piece. Fortunately, this idea is easy to tweak regularly until the proper balance has been achieved in the layout.
Large decorative vintage elements will enhance colorful walls and featureless construction. An over-sized wall clock or original artwork may be all that is needed to jazz up the room design. Architecturally crafted room dividers provide form, function, color and texture missing in a room's construction. Arranging the antique love seat with the boldly patterned upholstery or the sofa designed with a unique curve are simple ideas to employ as room accents. To achieve the right balance of size with shape and form with function in a home design takes time mixed with patience in experimentation. A second look at the design opportunities available at KindaChic.com can provide the deciding factor.